Travel Planner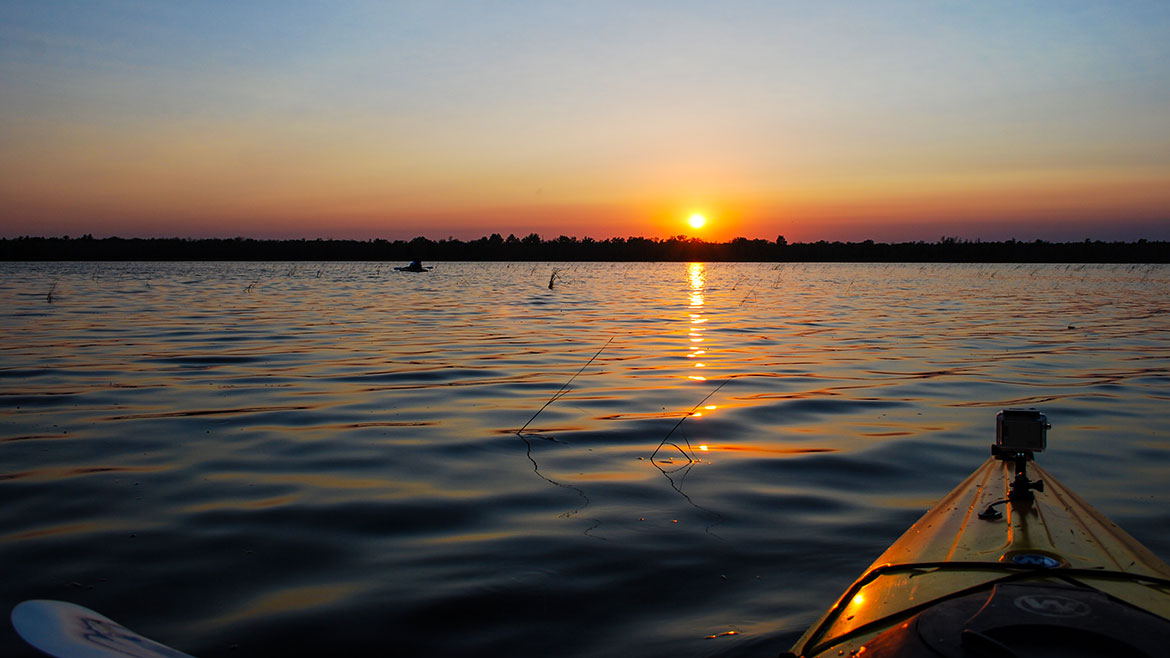 "Where The Water Has Taken Us"
Episode #1804 Travel planner
Michigan and Canada are known for their waterways and today we will show you some of the best. We will Canoe, Kayak, and boat through some of the most spectacular and exciting waterways that are accessible to everyone.
Big Island Lake Wilderness
Location: Big Island Lake Wilderness, part of the Munising Ranger District of the Hiawatha National Forest, lies about one-half mile northwest of the community of Steuben - 22 miles northwest of the city of Manistique and about 18 miles southeast of the city of Munising. Big Island Lake Wilderness is bounded on the south by County Road 437 and on the west by County Road 445. The remaining border is delineated by Forest Road 2303 on the northeast and an abandoned railroad grade (Haywire Grade - Forest Road 8109) on the south side.
Hours: Open year round
Big Island Lake Wilderness is located centrally in Michigan's Upper Peninsula. White birch, maple and aspen cover the wooded hills that surround the lakes. This wilderness contains 23 small lakes ranging in size from 5 to 149 acres. Some of the lakes are connected by maintained portages while some of the lakes are remote, making access more challenging.
Big Island Lake Wilderness offers remote, non-motorized recreation opportunities for those who want to be free of amenities -- you will find no directional signs, no restrooms, and no trashcans. There is no easy access and no wheeled or motorized equipment is allowed -- so if you want to canoe or kayak, you can't use portage wheels; you must carry your watercraft across portage trails to reach the water.
Indian River
WIDEWATERS CAMPGROUND
Location: Forest Road 2262 - Hiawatha National Forest | GPS - Latitude 46.21944, Longitude -86.62833
Open: May 15 - September 30
You will find at Widewaters Campground the opportunity to pursue whatever activities you desire whether it be canoeing, fishing, hiking, or just camping in a peaceful, quiet environment.
There are 34 large forested, well-spaced sites affording privacy and seclusion at each camping unit. Approved drinking water pumps and vault toilets are conveniently placed throughout the campground. Tables and grills are at each site. The campground area provides an atmosphere of relaxation. There are benches along the river where one might observe the anglers or do some bird watching, and if lucky catch a lovely sunset.
Widewaters affords boat access at the site to the Indian River, 60 acre Fish Lake and several other lakes close by. Local fish species include Largemouth Bass, Northern Pike, Bluegill, Black Crappie, Brown Bullhead and Brook Trout.
Tawas River / Lake Huron
Location: Veteran's Park Canoe/Kayak Launch - 608 W Lake Street, Tawas City
Veterans Park, 608 W. Lake St., was established in 2009 along the Tawas River. It is adjacent to City Hall, creating additional parking, a boardwalk along the river for fishing and access to launch a canoe or kayak.
Tip of the Thumb Heritage Water Trail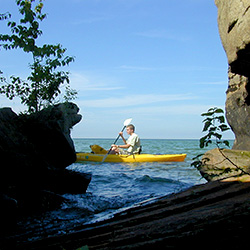 Location: Lake Huron in Tuscola County, Huron County and Sanilac County, Michigan
The Mission of the Tip of The Thumb Heritage Water Trail is to develop, maintain, and promote a water trail that highlights natural, cultural, and historical attributes to drive tourism, economic development, and recreational opportunities in Huron, Sanilac, and Tuscola Counties.
Chantry Island / Lake Huron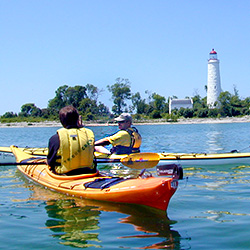 Location: Lake Huron just over a mile southwest of the mouth of the Saugeen River at Southampton
Chantry Island lies just over a mile southwest of the mouth of the Saugeen River at Southampton. Over 50 known shipwrecks surround Chantry Island and its imperial tower. Victims of the rocky shoals and deadly storms has proven that the waters surrounding the island are the most treacherous in the Great Lakes. Today, the local Marine Heritage Society offers lighthouse tours that include a restored lightkeeper's home, where rubble has been cleared from the basement, the stone walls have been rebuilt, and a new roof has been installed. Chantry Island is home to over 10,000 pairs of mating birds, including cormorants, black-crowned night herons, great blue herons and egrets. Chantry Island is a Canadian Wildlife Service migratory bird sanctuary.
Tobermory Harbor / Fathom Five National Marine Park - Georgian Bay
Location: Northern Tip of the Bruce Peninsula, Ontario
Tobermory, Ontario is the crown jewel vacation spot at the northern tip of the Bruce Peninsula. From its earliest days, Tobermory has watched a steady parade of schooners and steamers make their way through a maze of islands and reefs offshore. Many did not survive. Today, Fathom Five National Marine Park is the final resting place of some two dozen wrecks that make Tobermory the scuba diving centre of the Great Lakes.
Chippewa River / The Tridge - Midland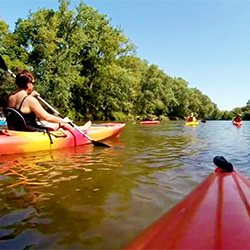 CHIPPEWA NATURE CENTERLocation: 400 South Badour Road - Midland, MI 48640
Phone: (989) 631-0830
Visitor Center Hours: Mon - Fri 8am-5pm | Sat 9am-5pm | Sun 1-5pm
IKE'S MOBILE KAYAK RENTALS
Location: 111 W Main Street, Midland, MI 48640
Phone: (989) 750-5251
What a wonderful day to spend kayaking the Chippewa River from the Chippewa Nature Center down to the Tridge in downtown Midland. You can go day tripping down the river in your own kayak or rent one from the area outfitter, Ike's Mobile Kayak Rentals. They will drop you at the selected launch site of your choice and pick you up when you're finished paddling. Midland and the surrounding area have easy launch sites, beautiful rivers and lakes full of nature to make your kayaking experience relaxing and enjoyable. Kayaking is a great form of exercise. Fun for families, groups or paddle by yourself.
AuSable River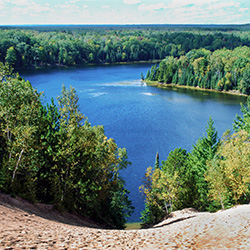 Location: AuSable River
Paddlers enjoy the calm, but swift paddling of the river and the lake-like atmosphere below the impoundments. Canoeing the AuSable River is a family tradition that you and your kids will always remember. Older teenagers, college students and adults enjoy heading down the AuSable in any combination of inner tubes, canoes and kayaks.
Rifle River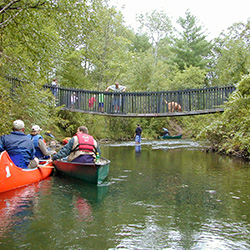 BIG MIKE'S CANOE RENTAL
Location: 2575 Rose City Road - Lupton, Michigan 48635 | about 5 miles East of Rose City

RIFLE RIVER RECREATION AREA
Location: 2550 E Rose City Road - Lupton, MI 48635
Phone: (989) 473-2258
The Rifle River Recreation Area covers over 4,000 acres in Ogemaw County. The park offers 159 campsites, has several hiking trails and several lakes in its boundaries. Also in the watershed are two state forest campgrounds. The Rifle River campground provides 40 campsites and is located on both sides of the Rifle River. Hardwood Lake State Forest Campground has 22 campsites available. Public canoe access to the Rifle River is fairly good. Access sites are located in the Rifle River Recreation Area, the state forest campground, near Skidway Lake, Moffatt Bridge, and at Omer. In addition, there is a partially developed access site near the confluence of Klacking Creek with the Rifle.
Lake St. Clair
LAKE ST CLAIR METROPARK
Location: 31300 Metropolitan Parkway - Harrison Township, MI
Phone: (586) 463-4581
When: June
The Sprint and Splash at Lake St. Clair event will offer three options for participation! Duathlon: 5K Run and 2 Mile Kayak (please note this race can be done as an individual or as a two-person relay team), Family Friendly 5K Fun Run & Walk, Stand Up Paddle boarding Competition: 2 Mile Recreational Race or 6 Mile WPA Sanctioned Race. The purpose of this unique event is to promote and celebrate Lake St. Clair, which is truly the "heart" of the Great Lakes.
Waterways Poll - Vote For Your Favorite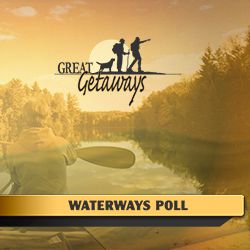 We paddled a wide variety of waterways – rivers, lakes, and streams – in all types of watercraft – canoes, kayaks and sea kayaks – visiting Ontario and both of Michigan's peninsulas. We hope some of our favorites become yours, or in the very least, we have whet your appetite to learn more about this quiet sport.
Now it is time for a poll or vote of your favorite waterway. Make your choice for the river, lake or stream you want to drop your oars in.