Travel Planner
"Autumn U.P. Getaway"
Episode #1513 Travel planner
There is no time like fall for that wilderness Getaway. Canoeing, fishing and just incredible scenery for an incredible fall adventure.
Mackinac Bridge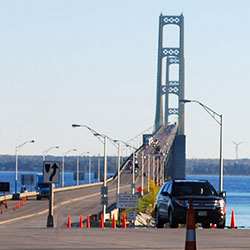 Location: on Interstate 75 at the Straits of Mackinac
Toll: $2 per axle for passenger vehicles ($4 per car). $5 per axle for motor homes, and commercial vehicles.
Phone: (586) 533-0141
Hours: 6am-10pm
The Mackinac Bridge is a suspension bridge spanning the Straits of Mackinac to connect the Upper and Lower peninsulas of Michigan. Opened in 1957, the 8,614-foot "Mighty Mac" is the world's fifth-longest in total suspension and the longest suspension bridge between anchorages in the Western hemisphere. The Mackinac Bridge connects the city of St. Ignace on the north end with the village of Mackinaw City on the south.
Camping & Canoeing
Hiawatha National Forest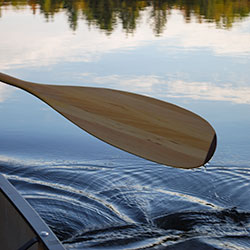 WIDEWATERS CAMPGROUND
Location: Forest Road 2262 - Hiawatha National Forest | GPS - Latitude 46.21944, Longitude -86.62833
Open: May 15 - September 30
You will find at Widewaters Campground the opportunity to pursue whatever activities you desire whether it be canoeing, fishing, hiking, or just camping in a peaceful, quiet environment.
There are 34 large forested, well-spaced sites affording privacy and seclusion at each camping unit. Approved drinking water pumps and vault toilets are conveniently placed throughout the campground. Tables and grills are at each site. The campground area provides an atmosphere of relaxation. There are benches along the river where one might observe the anglers or do some bird watching, and if lucky catch a lovely sunset.
Widewaters affords boat access at the site to the Indian River, 60 acre Fish Lake and several other lakes close by. Local fish species include Largemouth Bass, Northern Pike, Bluegill, Black Crappie, Brown Bullhead and Brook Trout.
Hiking Bruno's Run Trail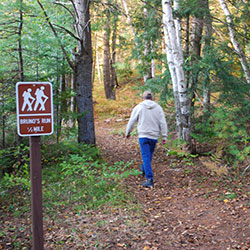 Location: The trail may be accessed from both Widewaters and Pete's Lake campgrounds as well as from Forest Highway 13 at Moccasin Lake and Forest Road 2173 at Grassy Lake. Limited parking is available at each site.
The 9 mile loop Bruno's Run Trail winds its way past a host of small lakes etched in this relatively young glacial plain, taking hikers, bicyclists, snowshoers and skiers over gently rolling country. Further along, the trail runs over foothills, along overlooks and through valleys. The many lakes and streams in the area as well as a variety of trees and other plants make it likely that those traveling the trail will spot wildlife or tracks. If you are alert, you are sure to have an enjoyable outing. Permits are not required for camping along the trail or for campfires. Be careful with fire.
ATV Ride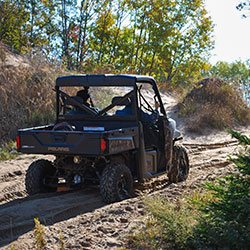 GRAY WOLF LODGE
Location: 6770 W US HWY 2 - Manistique, MI
Phone: (906) 341-2410
Challenging trails for the off-road enthusiast can be found throughout the Manistique area, including the Marquette-Manistique ORV Trail. Riding opportunities abound along abandoned railroad grades for a near straight jaunt. Hundreds of miles of scenic and historic trails are ready for today's rider.
Cedar Street Cafe and Espresso Bar
Manistique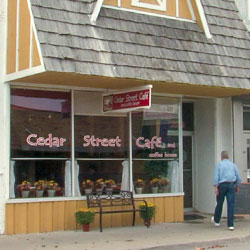 Location: 220 South Cedar Street - Manistique, MI
Phone: (906) 341-2469
Hours: Thu-Tue: 8am - 2pm, Wed: 8am - 7pm
Cedar Street Café offers in-house dining (for breakfast, lunch, and dinner), and also serves any of their menu selections to go. The cafe's mission is to serve great food and drinks (made to order) using only the best ingredients and as many local suppliers as possible. They care about, and are committed to contributing to, their business community and revitalizing the town of Manistique as well as highlighting its thriving artistic community.
Lake Michigan Shoreline
Gulliver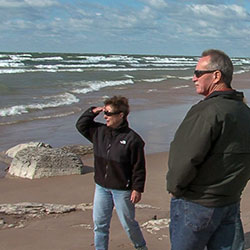 Location: South of Gulliver, Michigan
Whenever you visit Michigan's Upper Peninsula you have to drive down US 2 along the shores of Lake Michigan. Each beach is unique. Some days are good for swimming with the whitefish, others are ideal for walking or spreading your blanket for sunbathing. Whether you visit on a day when the waves are gently lapping or they are thunderously crashing on shore, the lakeshore will awe you with its beauty as it stretches for miles.
Hiking Colwell Lake Trail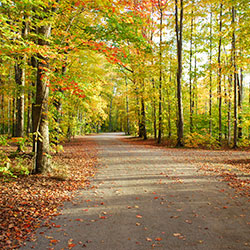 Location: 30 Miles North of Manistique just off of M-94
Colwell lake is 145 acres with an excellent swimming beach and boat access. Camping, fishing, picnicking and hiking are other popular recreation activities at Colwell Lake. The Colwell Lake Trail begins at the boat launch parking lot. This natural surface, nature trail is 1.6 miles long and crosses through a variety of northern hardwood stands and wetlands. The trail has several areas where stairs or plank boardwalks are traversed.
Canoeing the COrner-Straits Chain of Lakes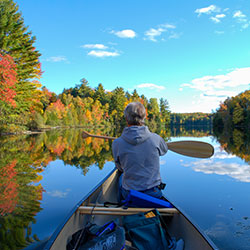 Location: Hiawatha National Forest near the tri-county corner of Delta, Alger and Schoolcraft Counties and just East of Forest Road 13.
The Corner-Straits Chain of Lakes covers 477 acres in the lovely lake country of the Hiawatha National Forest. These are good bass lakes for both large and smallmouth bass, and occasionally large northern pike are taken, as well as bluegills and sunfish. There is no better way to enjoy the clearness of the air, the clarity of the skies and the boldness of the forests than to be canoeing, kayaking or fishing on the larger Straits or Corner Lakes or the number of smaller lakes they connect to.
Cottage Country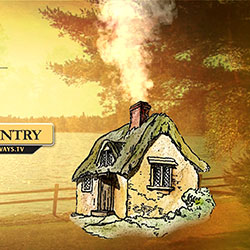 Tom checks out three beautiful cottages, one on Lake Michigan, another on Indian Lake surrounded by federal land; and a secluded home with guest house on Thunder Lake. Check out the outstanding features of each one and then let us know what you liked best.