Travel Planner
"Hiking in the Trees"
Episode #8021 Travel planner
Autumn color abounds as we take you on a vacation you will never forget. We take a hike across tree tops in an old growth forest and then end with a zip line down 300 feet from the top of the Niagara Escarpment. Along the way we will stop at the oldest brewery in Ontario.
Grey County, Ontario
Special thanks for contributions to this episode:
Bryan Plumstead Tourism Manager, Grey County Tourism
Heather Molnar Tourism Assistant, Grey County Tourism
Richard Mund Richard Mund Pottery
Val & Andy Stimpson Neustadt Springs Brewery
Brian Schenk Noah's Inn
Angela Milan Garlan Stained Glass
Paul Lavender Munshaw's Bistro
Jack Morgan Former President & Trail Development Director
David Lambe Grandma Lambe's Apples
Barbara Kay 100 Mile Market
Marilyn Morris Meaford Scarecrow Invasion & Family Festival
Zita Largo Restaurant, Thornbury
Linda Service Scenic Caves Nature Adventures
Andrea Oliver & Bonacini Cafe Grill
Gwen & Neil Lamont Coffin Ridge Boutique Winery
Pauline MacLeod Farley Tom Thompson Art Gallery
Robin Pradhan Rocky Raccoon Cafe
Gary McLaughlin Riversong Gallery
Neustadt Springs Brewery | Neustadt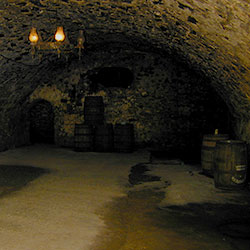 Location: 456 Jacob Street - Neustadt, Ontario
Phone: 519-799-5790
Reputed to be the oldest original operating brewery building in Ontario, Neustadt Springs Brewery sits above the original crystal springs which still flows in the caverns beneath the brewery and is solely used in the production of their beer.
Saugeen Autumn Leaves Studio Tour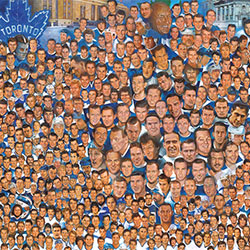 RICHARD MUND POTTERY
Location: Neustadt
GARY MCLAUGHLIN - RIVERSONG GALLERY
Location: Neustadt
Every fall the artists of the Autumn Leaves Studio Tour invite the public into their homes and studios. This year on October 2, 3 and 4 explore the diversity of each artist's creative process and their amazing selection of artworks. The range of mediums include; glass, watercolours, pottery and ceramics, acrylics and oils, fiber art, wood, preserves, print and metal.
After 10 years designing and producing functional pottery, Richard's work continues to evolve. With the home & garden in mind, Richard creates a fresh collection of richly decorated pieces. Richard strives to balance every day use, timeless sensibility with contemporary shapes.
After more than 3 decades at his craft, Gary McLaughlin is bringing more confidence, skill, humor, and insight to his paintings than ever before. His accomplishments include magazine and book covers, collector plates and limited edition sports prints. Corporate clients, including Coca Cola, Tim Horton's, the Canadian Broadcast Corporation (CBC) and Maple Leaf Gardens have featured his artwork on product merchandise and print ads.
Noah's Inn Fish & Chips
Location: 527 Mill Street, Neustadt, Hanover, ON
Noah's Inn is a casual fine dining restaurant in Neustadt, Ontario. Whether you linger over a cappuccino with your morning paper; savour soup and salad for lunch, or spend an evening enjoying one of their outstanding entrées, you are sure to have a memorable experience at Noah's Inn.
Garlan Stained & Textural Glass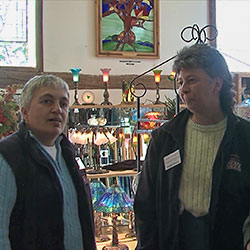 Location: 503617 Grey Road 12 W. - Markdale, N0C 1H0

Sitting atop a high hill on the edge of the gorgeous Niagara Escarpment in the township of West Grey, the renovated century old barn of Garlan Stained Glass provides views that inspire! Custom stained glass panels of all designs and sizes fill the windows and nooks and crannies of this lofted work shop. Located on Highway 12, outside of Markdale and Durham between highway 6 and highway 10. Come by to shop and look at many works in progress and completed works, from church windows to custom Garlan Art. There is a variety of completed work available for sale. All shapes and sizes to fit your budget and colour schemes. See a variety of glass techniques in garden, suncatchers, windows, cabinets to 3D pieces. Demonstrations.
Munshaw's Bistro
Location: Flesherton
Family run Bistro, serving locally grown and produced food.
Bruce Trail
Location: Beaver Valley
One of the 9 sections of the Bruce Trail, the Beaver Valley section extends from Craigleith to Blantyre covering, 113.1 km of main trail plus an additional 50 km of side trails. It takes hikers across diverse landscapes from the top of the escarpment with grand views of Nottawasaga Bay and of the Beaver Valley, through fields and forests, by creeks and waterfalls accompanied by the flora of the different seasons or the colourful foliage of fall.
Grandma Lambe's
Location: Meaford
For over fifty years, Grandma Lambe's has been serving the Southern Georgian Bay area with friendly, old fashioned hospitality and the best home baking anywhere! Visitors to the area love the unhurried pace of a bygone era and the knowledgeable assistance of Grandma Lambe, her family, and the staff at the stores.
Almond's Farm Market
Location: 206663 Highway 26, just East of Meaford, ON
Phone: (519) 538-2281
Open all year round, the Almond Family works together to bring you all the best produce, gifts, home baking and preserves that Grey County has to offer. The main attraction at Almond's Orchard and Farm Market are the APPLES.
Meaford Scarecrow Invasion
Location: Meaford
Meaford's biggest claim to fame is scarecrows. Thousands of people attend the Scarecrow Invasion's Friday evening Parade & Family Festival in Market Square. Children and adults love to dress up as scarecrows. As an added attraction, many carry stuffed and manufactured varieties of the cute figures during Friday evening's festivities. Weekend activities include harvests dinners, special scarecrow exhibits and contests, pancake breakfasts, a hay maze obstacle course, apple-peeling contest and entertainment for the entire family. Both Scarecrow Invasion and the popular Apple Harvest Craft show are held annual over the first weekend in October. Scarecrows are usually kept on display until after Thanksgiving weekend.
100 Mile Market (now called 'The Barn Co-op')
Location: Meaford
The 100 Mile Market in Meaford is a small grocery store bringing together local producers with local consumers. They were inspired by the book 100-Mile Diet, and by the local consumers' call for continuation into the winter months of the goods offered at the Meaford Municipal Farmers' Market founded in the summer of 2007.
Scenic Caves Treetop Hike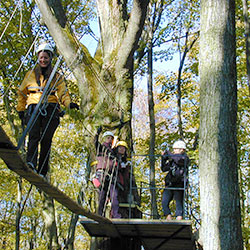 Location: Collingwood
Your 3-hour adventure begins with gear outfitting (all provided for you) and introductions to your guides. You will then take a short hike to our 410 foot suspension bridge overlooking a 10 000 square kilometer view of Collingwood and Georgian Bay. A tractor and wagon ride through the forest will give you a glimpse of the unique ecology of the Niagara Escarpment before you journey up into the trees. Your treetop walk will take you 600 meters across 10 inch wide bridges suspended as close to the treetops as possible.
Oliver & Bonacini Cafe Grill
Location: Blue Mountain | Collingwood
This exciting Blue Mountain eatery in the upscale Westin Trillium House is custom-built for full-service mountain dining, as well as some seriously indulgent culinary experiences.
Tom Thompson Art Gallery
Location: Owen Sound
The Tom Thomson Art Gallery is a regional public gallery and national cultural attraction with a top-notch and revolving program of contemporary and historical exhibitions, lectures, forums, films, concerts and workshops.
Rocky Raccoon Cafe
Location: Shallow Lake, ON
The menu brings the "100 Mile Diet" to life through a large network of local farmers and food producers, allowing Rocky Raccoon Café to serve some of the freshest and best foods available in Grey and Bruce Counties. Local fish, elk, bison, beef, lamb, and chicken, plus organic vegetables, cheeses, wines, and many others provide endless inspiration. The intention behind every dish served at Rocky Raccoon Café is 'local and living', a combined effort with local food producers to fill a desire to nourish both body and spirit.