Travel Planner
"Winter Trails"
Episode #2003 Travel Planner
Snowmobiling is not the only way to hit the trails in winter. Today we will jump on ATVs and discover the famous 222 ATV trail in St. Helen, then it's on to snowshoeing, ice fishing and a lot more including the big winter carnival, Tip Up Town USA. Today's show is all about winter!
Tip-Up Town USA
Location: Houghton Lake
2023 Dates: January 21-22, 28
TIP-UP TOWN USA is Michigan's longest running winter festival, this year our event is January 21, 22 and 28th. The festival is held at the southern DNR boat launch, off of M-55 near the Pines theater and Pineview Golf Course. Free parking is available at the High School and library with free shuttle service to and from Tip Up Town. Badge is required. Festivities usually include: Side by Side Racing, Polar Bear Dip, Games on Stage and in the Village, Snowmobile Drag Racing, Poker Run, Live Entertainment, Ice Fishing Contest and more!
Ice Fishing
Location: Lakes throughout Roscommon County
Experience the excitement of winter fishing on Houghton Lake, Higgins Lake and Lake St. Helen. Here you will find perch, crappie, small and large mouth bass, northern pike, walleye, pike, bluegill and more. Shanties MUST be removed by March 15 from all bodies of water.
The Frog Tiki Bar (Springbrook Inn)
Location: 565 W West Branch Road (M55) - Prudenville, Michigan
Winter Hours: Thu 4-9pm, Fri 4-11pm, Sat Noon-11pm
Phone: (989) 366-6347
The Caribbean comes to Houghton Lake! The Frog outdoor tiki bar has a great grill menu and the décor makes you feel like you are on an island somewhere in the Caribbean. Throughout the year they host many events: trivia, comedy, beer & wine tasting, annual Cheeseburger party and more. Many great memories have been made and everybody leaves with a new friend or two!
Snowmobiling
Location: Trails throughout Roscommon County

ANN'S WATER-N-WOODS MOTEL / DON'S RENT-N-RIDE
Location: 114 Devonshire Drive - Prudenville, Michigan
Phone: (989) 366-7664
*DON'S RENT-N-RIDE IS NOW CLOSED
With roughly 200 miles of groomed snowmobile trails in Roscommon County, Houghton Lake is the perfect stop for the snowmobile enthusiast. It is clear to see why Houghton Lake attracts thousands of snowmobile enthusiasts each winter. With northern Michigan's extensive trail system, abundant snow and exciting terrain, it is the perfect setting for a snowmobiling adventure for all ages.
The Houghton Lake area also offers plenty of lodging and snowmobiling friendly pubs and taverns and terrific dining as well. Houghton Lake is the perfect base for accessing Michigan's 6100 miles of snowmobile trails. Maps are available at various locations throughout the county, including Houghton Lake Tourism Bureau, Chamber of Commerce offices in Houghton Lake and Roscommon/Higgins Lake.
Cross-Country Skiing
CROSS COUNTRY SKI HEADQUARTERSLocation: 9435 N Cut Rd (Cty Rd 100) - Roscommon, Michigan
Phone: (800) 832-2663

MASON TRACT PATHWAY
Location: M-72 and Chase Bridge Road, AuSable State Forest - Grayling, Michigan
Phone: (800) 937-8837
The Cross Country Ski Headquarters is a charming Nordic Skiing / Snowshoeing center that includes 18 km of trails, has facilities for night skiing, a cozy lodge with food and hot beverages available. There is a complete store with sale or rental of cross county and snow shoeing equipment, clothing and accessories. Cross-Country Ski Headquarters has snowmaking equipment and frequently groomed trails.
Tisdale Triangle (AuSable State Forest - .5 Miles E of Roscommon via M-18 & Tisdale Rd) and the Mason Tract (AuSable State Forest - M-72 & Chase Bridge Road, Grayling) are located near Roscommon and offer a combined total of nearly 20 miles of pristine trails.
Winter ATV Ride
Location: Trails throughout Roscommon County

ST. HELEN MOTORSPORT AREA
Location: 2 Square Miles south of Airport Road and west of Meridian · just outside of St. Helen, MI
With hundreds of miles of maintained snowmobile and ATV-ORV trails throughout Roscommon County, and with the ability to ride on State Forest Roads, you are bound to find some place to ride your motorized vehicles.
In addition to close to 200 miles of motorized trails and routes in the county, Saint Helen is home to the St. Helen Motorsport Area. This approximately 2 square miles area offers over 50 miles of designated trails as well as a sand pit and rock climb (GPS: 44°20'58.3"N 84°22'53.0"W). The trail system has direct access to gas stations, restaurants and campgrounds.
Marl Lake Snowshoeing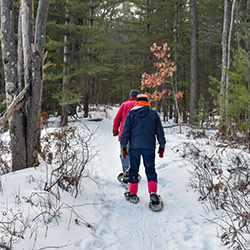 MARL LAKES TRAILS
Location: South Higgins Lake State Park | 106 State Park Drive - Roscommon, Michigan
Phone: (989) 821-6374
Snowshoeing is fast becoming one of winter's most popular activities. Just minutes from your hotel room you will find a wide variety of state forest trails on which to experience the best that winter has to offer. In the area around Marl Lake there are three loop trails: Green Trail - 2 miles of trail, Red Trail - 3.5 mile loop much of it on the edge of the lake, Blue Trail - 5.5 mile loop with half of it along the edge of the lake.