Travel Planner
"Discover Winter in Escanaba"
Episode #2002 Travel planner
In the winter there is so much to do and this winter we travel to the city with the longest freshwater shoreline of any county in the entire USA. We will ice fish for trophy walleye and tour Escanaba but not in Da Moonlight!
Ice Fishing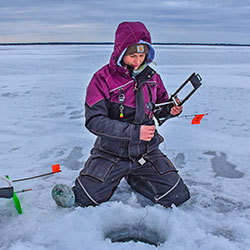 Location: Big Bay de Noc, Michigan

BEAVERS LURES
Location: 914 Ludington Street - Escanaba, Michigan
Phone: (906) 399-1578
Delta County has the longest freshwater shoreline of any county in the entire USA. So it's no surprise that "villages" of ice fishing shanties spring up on both Little and Big Bays de Noc. This area is for trophy walleye fishing, where you can reel in a 30 to 32-inch keeper, tipping the scales at 14-pounds. Catch northern pike or a mess of yellow perch. Or try to beat the 54-inch and 43-pound sturgeon hefted through the ice of Stonington Peninsula in mid-January 1996.
Katelyn Beaver was introduced to fishing by her Dad and Grandpa, who would take her on the water as early as her mom would allow it. Some of her earliest memories are pulling up in her grandpa's boat and showing off their catches. As she grew older life got busy, but she started to hit the water again during the Covid-19 pandemic and also started making lures during this time. This hobby has now turned into her business called Beavers Lures! Beavers Lures are made in Da Upper Peninsula of Michigan, along the waters of little Bay de Noc. Each lure is airbrushed and assembled in small batches to assure you the highest quality. Our goal is to help you... Finally Catch that Dam Fish. EST. 2020
Escanaba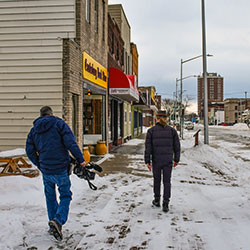 Location: Delta County in Michigan's Upper Peninsula
We are your Pure Michigan connection in Michigan's Upper Peninsula! We invite you to come spend your next Michigan vacation in Delta County--with more freshwater shoreline than any other county in Michigan! Once you make it to the Escanaba area, you are a short drive from all types of experiences.
A well known bass guitarist from Escanaba, Kevin Chown has performed with Chuck Berry, Uncle Kracker, Steelheart, Sebastian Bach, Tarja Turunen, Chad Smith and many more in over 80 countries around the world, after getting his start playing rock and roll in the bars and clubs of Escanaba in the 1980s. Chown was born and raised in rural Escanaba, Michigan, and grew up in a very musical environment.
Swedish Pantry
Location: 819 Ludington Street - Escanaba, Michigan
Phone: (906) 786-9606
The Swedish Pantry Restaurant in Escanaba's downtown serves delicious home-cooked meals for breakfast, lunch and dinner. Swedish pancakes, homemade soups, sandwiches, freshly baked breads and muffins await you. Don't let our name fool you, we cook up some of the best American fare in the Midwest. Pot roast with real mashed potatoes are on our menu along side Swedish meatballs with rutabagas and Swedish fries.
Sayklly's Confectionery & Gifts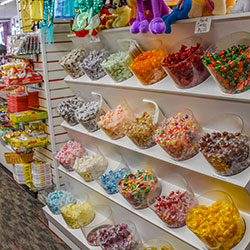 Location: 1304 Ludington Street - Escanaba, Michigan
Phone: (906) 786-1524
Welcome to Sayklly's Confectionery and Gifts where for three generations the Sayklly family has been delighting folks on Michigan's Upper Peninsula with homemade chocolates and candies, made from old-world recipes with only premium ingredients. We offer hand-dipped chocolates, authentic old-fashioned sweets, unique gifts and personalized candy for corporate or special occasions. Taste and see how sweet it is to have Sayklly's heavenly confections delivered direct to you, with a smile!
House of Ludington
Location: 223 Ludington Street - Escanaba, Michigan
Phone: (906) 723-8585
Few hostelries anywhere in the nation can boast the credits piled up over the years by the House of Ludington, built in 1865. Known to many as the Great White Castle of the North, its glass walled elevator and medieval looking cupolas dominate the waterfront scene at the foot of Ludington Street. We have an onsite Irish Pub, and our two dining rooms feature gourmet dinners and luncheons daily, offering an atmosphere of simple elegance along with casual dining. Private parties and banquet facilities are also available in the Ball Room equipped with a private bar, wooden dance floor, and outside courtyard.
Stone Cup Coffee House
Location: 1222 Ludington Street - Escanaba, Michigan
Phone: (906) 789-1390
Great food, homemade soups, and scones made from scratch. Grab some coffee and a treat to dip in it!
Leigh's Garden Winery
Location: 904 Ludington Street - Escanaba, Michigan
Phone: (906) 553-7799
Features wines made from cold climate grapes and a variety of northerngrown fruit. Tours available. Stop in for a wine tasting, a glass or two or to purchase a bottle...or more!