Travel Planner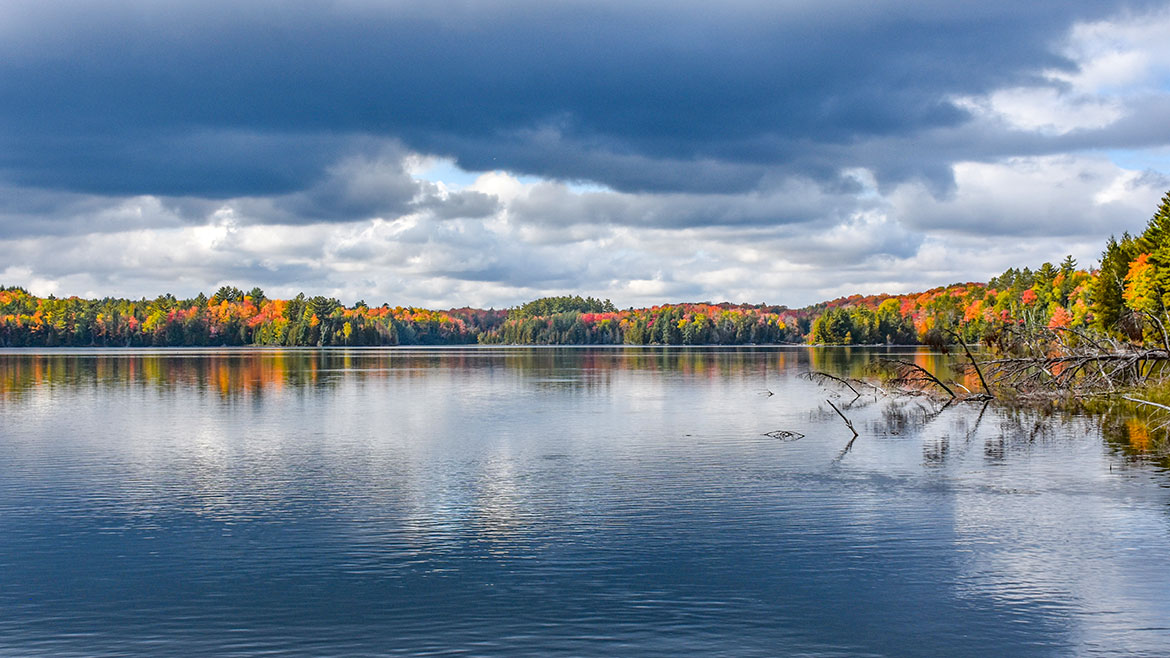 "Hiawatha National Forest"
Episodes #1902 & #1903 Travel planner
We spend a lot of time in the Hiawatha National Forest hiking and exploring and that's what we are going to do on this 2-part special. It all starts on the Bruno's Run Hiking Trail.
In part 2 we continue to learn more about this incredible wilderness as we continue our hiking and exploration. Including stops at the McKeever and Toms Cabins.
Hiawatha National Forest
Location: Upper Peninsula, Michigan
Located in the central and eastern Upper Peninsula of Michigan the Forest encompasses approximately 880,000 acres and receives 1.5 million recreational visits per year. The Forest affords visitors access to white sand, scenic beaches and relatively undeveloped shorelines. The West Unit is located in the central of the Upper Peninsula, bordering two of the Great Lakes - Lake Superior and Lake Michigan. The western portion of the Hiawatha extends from the towns of Rapid River and Manistique, along Lake Michigan, to the town of Munising on the Lake Superior shore.
Toms Lake Cabin
Location: Forest Road 2082 | Hiawatha National Forest MI
Toms Lake Cabin sits on a knoll overlooking a semi-open area surrounded by tall pines and Toms Lake. The setting is ideal for a rustic Upper Peninsula Michigan getaway. Many visitors return year after year and this location has been lovingly described in online reviews as the best place on earth. The location is cozy and quaint any time of year, and the diversity of recreational activities means there is something for everyone.
Indian River
WIDEWATERS CAMPGROUND
Location: Forest Road 2262 - Hiawatha National Forest | GPS - Latitude 46.21944, Longitude -86.62833
Open: May 15 - September 30
You will find at Widewaters Campground the opportunity to pursue whatever activities you desire whether it be canoeing, fishing, hiking, or just camping in a peaceful, quiet environment.
There are 34 large forested, well-spaced sites affording privacy and seclusion at each camping unit. Approved drinking water pumps and vault toilets are conveniently placed throughout the campground. Tables and grills are at each site. The campground area provides an atmosphere of relaxation. There are benches along the river where one might observe the anglers or do some bird watching, and if lucky catch a lovely sunset.
Widewaters affords boat access at the site to the Indian River, 60 acre Fish Lake and several other lakes close by. Local fish species include Largemouth Bass, Northern Pike, Bluegill, Black Crappie, Brown Bullhead and Brook Trout.
Hiking Bruno's Run Trail
Location: The trail may be accessed from both Widewaters and Pete's Lake campgrounds as well as from Forest Highway 13 at Moccasin Lake and Forest Road 2173 at Grassy Lake. Limited parking is available at each site.
The 9 mile loop Bruno's Run Trail winds its way past a host of small lakes etched in this relatively young glacial plain, taking hikers, bicyclists, snowshoers and skiers over gently rolling country. Further along, the trail runs over foothills, along overlooks and through valleys. The many lakes and streams in the area as well as a variety of trees and other plants make it likely that those traveling the trail will spot wildlife or tracks. If you are alert, you are sure to have an enjoyable outing. Permits are not required for camping along the trail or for campfires. Be careful with fire.
Maywood History Trail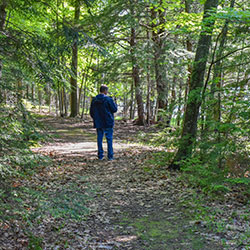 Location: Hiawatha National Forest, 9 miles south of Rapid River, MI (Latitude: 45.83537, Longitude: -86.98283)
Length: .9 miles
This hard-packed, easily accessible trail takes the visitor through a 200 year old hemlock forest on the shore of Little Bay de Noc. Because of its geographic setting, the area was a focal point of human activity and includes Native American sites and the foundations of an old resort hotel complex. Abundant historic photographs and oral history quotations on interpretive signs tell the Maywood story. Maintained May to October.
Fishing Hiawatha Forest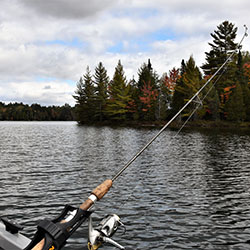 Location: Hiawatha National Forest - West Zone
The Hiawatha National Forest offers fishing on more than 75 lakes and 600 miles of streams for a wide variety of warmwater and coldwater species. Our "Fishing on Inland Lakes" document offers information on the Hiawatha's west side lakes. This guide presents information on lakes that have public access and usually offer an attrative sport fishery for one or more of the lakes species.
Thompson State Fish Hatchery
Location: 944 South State Highway M-149 | Manistique, MI
Phone: (906) 341-5587
The Thompson Fish Hatchery is located about eight miles west of Manistique on County Road 149. It is one of six hatcheries operated by the Fisheries Division of the Michigan Department of Natural Resources and is open for tours. Most of the hatchery's annual production is cold water species such as brook trout, splake, brown trout, rainbow trout and chinook salmon most of which is planted in Upper Peninsula waters.