Travel Planner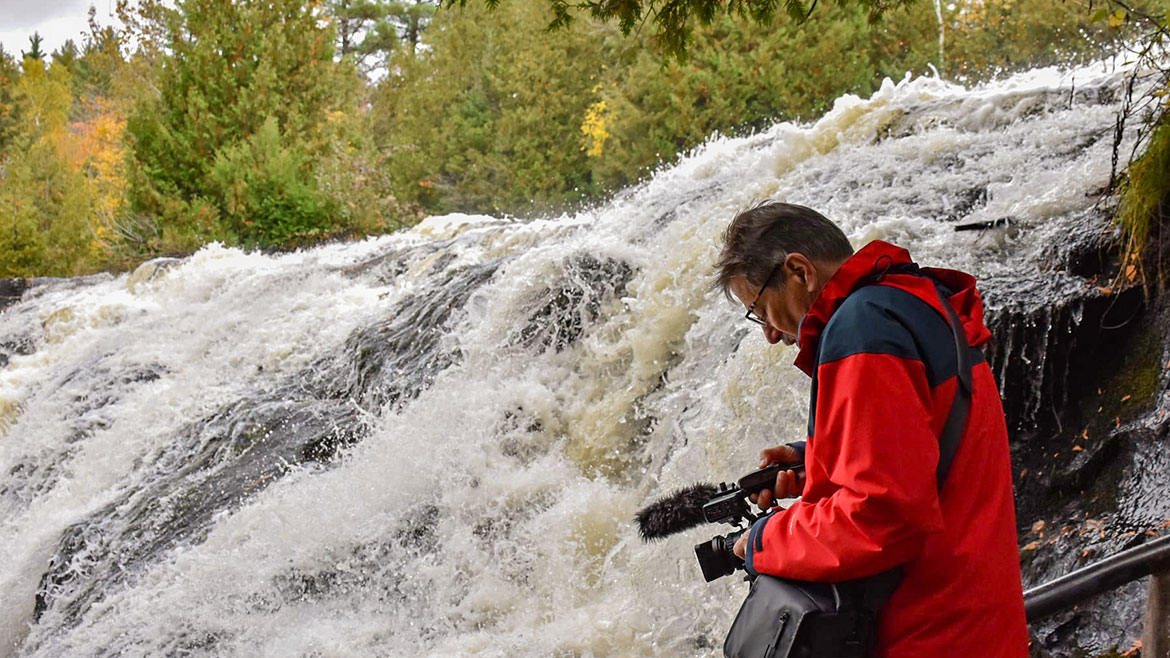 "Wilderness Waterfalls"
Episode #1802 & 1803 Travel planner
The U.P. is home to all but one of Michigan's waterfalls. There are more than 200 falls scattered across the U.P., ranging in size from under 5 feet to 48+ feet vertical drops. Almost all require hiking to reach, and all are worth the hike. Some of the hikes are a lot harder than others but as you will see today the hikes are half the fun.
Part two of our wilderness waterfall hunt will take us on an incredible hike into the McCormick Wilderness in search of the Yellow Dog falls plus an adventure on the North Country Trail to even more waterfalls in Michigan's Upper Peninsula.
Boney Falls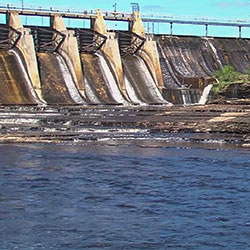 Location: Escanaba River | Gladstone MI
More of a dam and rapids than a regular waterfall. This scenic, forested impoundment on the Escanaba River offers beautiful scenery and good wildlife viewing. Available at this site: restrooms, trails, picnic area, camping, fishing, hiking trails, small boat ramp, drinking water. The river is shallow, so canoeing may be difficult during periods of low water.
Piers Gorge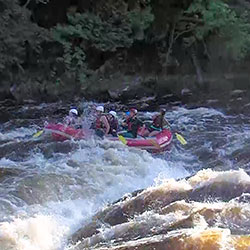 Location: Menominee River Recreation Area | Norway MI
Piers Gorge is a scenic gorge carved out by the Menominee River. It is named for natural rocky "piers" that the river tumbles over, resulting in four sets of rapids, some of which could be classified as low falls. The biggest of the drops is about 8' high and is named Mishicot Falls.
Fumee Falls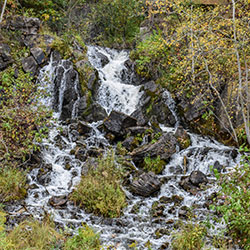 Location: Escanaba River | Gladstone MI
Fumee Falls is a road side waterfall along the north side of US 2 about 6 miles east of Iron Mountain. There is a small wayside here with restrooms and a waterpump. There are three drops to this falls. The main one is about 10 feet high. Above that are two smaller drops. In 2004 they added a stair and boardwalk to take you to the top of the main drop.
Bewabic State Park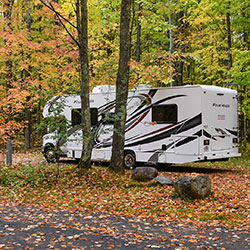 Location: Fortune Lake | Crystal Falls MI
A 129-site campground is situated in a shady, wooded site. Most of the sites have buffer strips between them to allow for privacy and most sites have electricity, a fire ring and a picnic table. Some campsites have 50 amp service. Picnic areas, a hiking trail, tennis courts, two playgrounds, an excellent beach and a boat launch to Fortune Lake are among the additional amenities at this park. Bewabic State Park is site #9 of the Iron County Heritage Trail System. The park is also rich with Civilian Conservation Corps History which is evident by several CCC structures still in use.
Chicagon Falls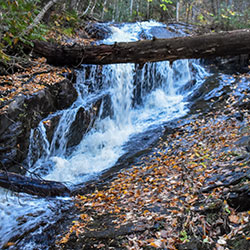 Location: Chicagon Creek | Iron County MI
Located just a few miles from Bewabic State Park, Chicagon Falls is a 20-foot slide falls on a small creek surrounded by forest. Reached by following a two-track then walking or biking the rest of the way in, these falls are incredibly secluded. Directions available at Bewabic State Park, respect any posted private property signs in the area.
Horserace Rapids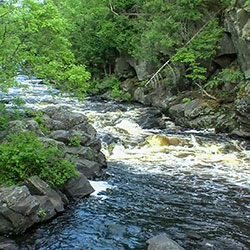 Location: Paint River | Crystal Falls MI
There are more than 100 waterfalls in the upper peninsula of Michigan. Some are easily accessible and others, like this one, take a bit more work. You will have to get off the main road and then it is quite a long and steep climb down. This rapids is popular with adventurous kayakers and white water enthusiasts and should be attempted only by the very skilled.
Nee-Gaw-Nee-Gaw-Bow Statue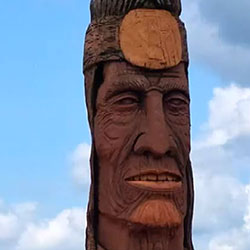 Location: Peter Wolf Toth Statue | Wakefield MI
Nee-gaw-nee-gaw-bow (Leading Man). Indian statue by famous artist, Peter "Wolf" Toth to honor the Chippewa Indians. It is the 59th statue on the "Trail of Whispering Giants." Peter Toth has donated a different Indian carving to each of the 50 states and Canada as a successful completion of his dream from 1971 to 1988. Toth's persistent work put his Indian carvings in Ripley's-Believe It or Not. It is located on the lakeside pier next to the Wakefield Visitor's Center. The Indian statue was carved from one piece of pine donated by the Ottawa National Forest and was completed in 1988.
Agate Falls Scenic Site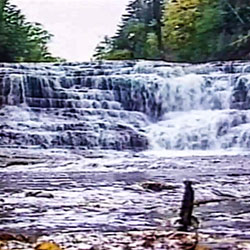 Location: Ontonagon River | Trout Creek MI
Considered by many to be one of upper Michigan's most picturesque waterfalls, Agate Falls is located on the middle branch of the Ontonagon River. The falls are created as the river finds its way over an extended shelf of terraced sandstone. The resulting waterfall is a broad band of interlacing cascades and small falls nearly 40 feet high. Access to view the falls is via an improved, accessible foot trail. Parking, water, toilets and picnic tables are available at the park, which is generally open from early May through late October.
Bond Falls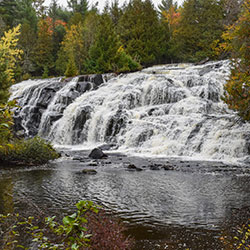 Location: Ontonagon River | Paulding MI
Bond Falls is a scenic and popular waterfall in southern Ontonagon County. The falls are created as the middle branch of the Ontonagon river tumbles over a thick belt of fractured rock, dividing it into numerous small cascades. Total drop of the falls is approximately 50 feet. Currently, roadside parking and picnic tables are available near the top of the falls. An accessible boardwalk with six viewing locations are also available at this location.
Lake of the Clouds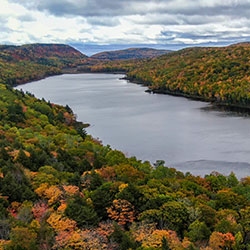 Location: Porcupine Mountains Wilderness State Park
Surrounded by the silhouettes of the ancient Porcupine Mountains, Lake of the Clouds is a blue gem amid the thick forests. In late spring and summer, the valley below is bathed in emerald green of old-growth forest, and in the fall, the trees burst into a fiery palette of oranges, yellows and reds. Lake of the Clouds is the most photographed feature in the Porcupine Mountains Wilderness State Park, and one of the most photographed in the entire Upper Peninsula.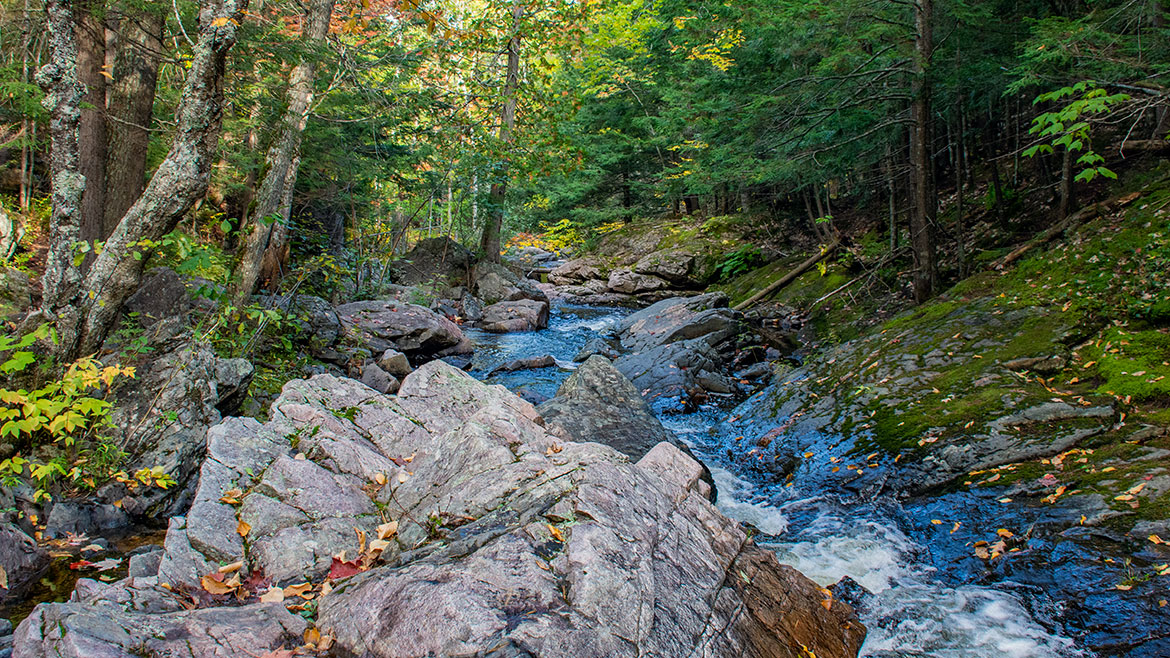 Big Garlic Falls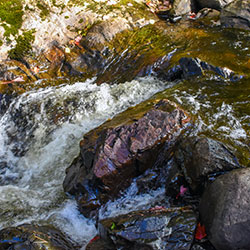 Location: Big Garlic River | Marquette MI
Big Garlic Falls is located about 20 miles north of Marquette. This is a wild waterfall, consisting of number of small drops and chutes. There are two distinct sections to the falls. The river is forced through a narrow rocky gorge. There really is no vantage point from which to see the whole thing, and you have to settle for different views as you carefully hike along the rocks.
Yellow Dog Falls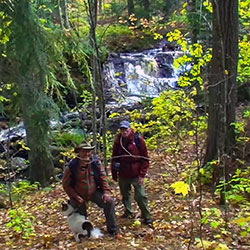 Location: Yellow Dog River | McCormick Wilderness MI
Located in the northeast part of the McCormick Wilderness this falls is located on the Yellow Dog River, one of only a handful Eastern rivers to be named "wild". The trailhead is located off of Ford Rd., and the trail is 2.38 miles to the falls.