Travel Planner
A Look Back At "Our First Winter Trip To Ontario"
Episode #1713 Travel planner
Grey County, Ontario is a winter lover's dream. This mystical area located along the Georgian Bay offers the winter enthusiast every possible form of activity that can be done in the snow and ice.
Skiing & Snowboarding
BLUE MOUNTAIN RESORT
Location: 190 Gord Canning Drive - Blue Mountains, Ontario
Phone: 1-833-583-2583
Skiing and snowboarding in Ontario is about standing up to the weather and making the most of every opportunity to get on the slopes. No matter what way you look at it, winter defines us and makes us who we are. Whether it's your first day on the bunny hill, or your fiftieth day catching first tracks, Blue Mountain is your destination for a winter experience to remember forever.
TALISMAN MOUNTAIN RESORT
Location: Grey Highlands, Ontario
GREY COUNTY
Home to Blue Mountain and 6 private clubs along the Niagara Escarpment, hitting the Grey County slopes is a must. Whether you're a black-diamond veteran or a first timer, there's a perfect run for you.
Festival of Northern Lights
Location: Owen Sound, Ontario
The Festival of Northern Lights is a lighted display festival that takes place annually from mid-November to early January with more than 400 displays. Enjoy the beauty of Owen Sound in the Winter season each evening from 5pm to 11pm, as nearly 400 displays and 25+ kilometres of lights illuminate the harbour, the Sydenham riverbanks, the downtown core, and Harrison Park.
Dog Sledding
SINGING DOGS DOG SLED ADVENTURES
Location: R.R. #1 - Wiarton, Ontario
Located only 2.5 hours north of Toronto, Singing Dogs Dog Sled Adventures brings the excitement and challenge of a true dog sled experience to customers. Our dog teams absolutely love their job, and enjoy teaching novice and experienced mushers the routine. Dog sledding is a thrilling and yet peaceful way to enjoy the outdoors. The excitement of the dogs is contagious. Come and experience the winter rush.
Snowmobiling
Location: Grey County, Ontario
With more than 2,400 kms of trail in Grey and Bruce Counties, local trails are maintained by the OFSC District 9. Add a wide-range of snowmobile friendly accommodations and eateries, and your winter adventure awaits.
Snowshoeing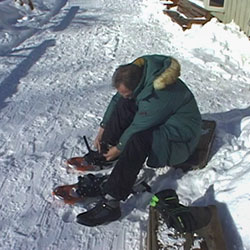 SCENIC CAVES NORDIC CENTRE
Location: 260 Scenic Caves Road - Blue Mountains, Ontario
One of the most unique winter offerings at Scenic Caves can only be experienced with a pair of snowshoes. Three trail designations represent the level of difficulty, with something suitable for every snowshoer. 1km of easy trails, 6km of moderate trails and one expert trail comprise our well signed 12km snowshoe trail network. Our location sets us apart. Not only are we at the highest point of the Niagara Escarpment, providing unmatched views and lookouts, our location also provides unparalleled conditions.