Travel Planner
"Our Favorite Hikes on the Sunrise Coast"
Episode #1707 / 1708 Travel planner
One of the best ways to see Michigan's Sunrise Coast is on foot, whether you want to tour the National Forest, take a day hike along one of the most scenic rivers in the world, stroll along a beach with your children or go backpacking along a stretch of the Lake Huron Trail. We will show you all of our favorites along the "Sunrise Coast".
We continue our favorite Hikes with more miles of backpacking and day trip trails that reach as far as you desire to travel on foot into the Huron National Forest woods, where an excellent system of shelters and tent sites offer backpackers plenty of possibilities for exploration. Step away from the paved roads and onto the trail and you'll soon find plenty of quiet and solitude as well as deer, eagles and loons.
Negwegon State Park
Location: About 35 Miles North of Oscoda via US-23
Contact: Harrisville State Park (989) 724-5126
Hours: Open year round
Negwegon State Park is a rustic, undeveloped area open for hunting, walk-in camping and hiking. The terrain is a mixture of low land areas, with small ridges, to mature pine forest, with some hardwoods and aspen forest, with some pockets of open meadows mixed in. Negwegon hosts a beautiful undeveloped sandy beach on Lake Huron. Please use caution when visiting Negwegon as the roads into the park are often so sandy that a four-wheel drive vehicle is needed. Motorized vehicles are not allowed on the trails or off-road.
Highbanks Trail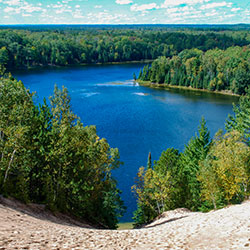 Location: 7 Mile trail located along the AuSable River. Latitude 44.627315, Longitude -84.512476
Hours: Open year round.
The Highbanks Trail System is a scenic back-country linear trail system with views of the AuSable River Valley. From the high bluffs of the south shore of the AuSable River, many species of plants, animals and songbrids may be viewed in their natural setting. The trail system offers excellent opportunities to experience and enjoy nature.
Iargo Springs
Location: Iargo Springs Interpretive Site (GPS 44.44133, -83.67587)
Hours: Open year round
Contact: Huron Shores Ranger Station (989) 739-0728
Located on the River Road Scenic Byway, this site, considered a holy place by native Americans, offers a breathtaking view of the AuSable River Valley from a 30' high observation deck. For the adventurous, walk down 294 steps and enter a mystical place where underground springs come together and form cold water streams. Walk along the elevated boardwalk and enjoy the serenity.
Canoers' Memorial Monument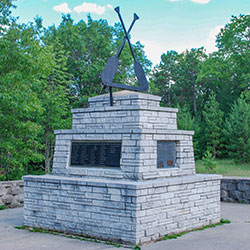 Location: River Road along AuSable River - Latitude 44.435824, Longitude -83.651616
Hours: Open year round
Contact: Huron Shores Ranger Station (989) 739-0728
Canoers' Memorial honors those that have paddled and those that continue to paddle these flowing waters. Access to Highbanks Trail during summer months is available at this site.
Lumberman's Monument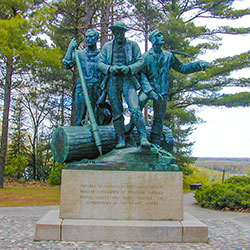 Location: 5401 Monument Road - Oscoda, MI (44.43592, -83.62381)
Hours: Grounds open year-round. Visitor Center open May to October daily, including weekends, from 10am to 5pm.
Contact: Lumberman's Monument Visitor Center (989) 362-8961
Lumberman's Monument Visitor Center interprets the area's colorful lumbering past. The 14-foot Lumberman's Monument stands on a high bank with the Au Sable River providing a scenic backdrop. Learn about the industry that helped develop northern Michigan and the men who cut the timber that helped build a nation. Climb through a log jam, use a peavey, cut a wooden cookie with a cross-cut saw, and learn about the life of a lumberjack through video and displays. Hike the stairway down to the wanigan, a loggers floating kitchen, or take the short trail to the dune observation deck. Enjoy a Kid's Day program or take a guided nature hike.
AuSable River Primitive Camping
Location: 102 Sites on 55 Miles stretch of the AuSable River
Mailing Address: AUSABLE RIVER CAMPING - 5761 NORTH SKEEL AVENUE, OSCODA MI 48750
Information: (989) 362-8961
Ausable River Primitive Camping is not a physical campground located at one location. A series of 102 individually designated single-family campsites are located on a 55-mile stretch of the Ausable River shoreline and bluffs within Alcona and Iosco Counties, from 4001 Bridge to Oscoda.
Hoist Lake Foot Travel Area
Location: Latitude: 44.655249, Longitude: -83.837975
Hoist Lake foot travel area encompasses almost 10,000 acres of pine, aspen and hardwood forest. There are 19 miles of looped trail. Hiking trails and back-country skiing are permitted; however, there are no groomed trails. Hiking ranges from moderate to more difficult/most difficult. Hunting and fishing are permitted in season.
Eagle Run Pathway
Location: 6.8 Miles of Trails on River Road 2.5 miles west of Oscoda. Latitude 44.425669, Longitude -83.366232
Hours: Open year round
Contact: Huron Shores Ranger Station (989) 739-0728
The Eagle Run Trails run along the south shore of the Lower AuSable River. Eagle Run provides a loop trail system for hiking and cross-country skiing. Scenic views of the AuSable River and a quiet, remote setting allow visitors to experience nature first hand. The trails are maintained with the support of volunteers.
Reid Lake Foot Travel Area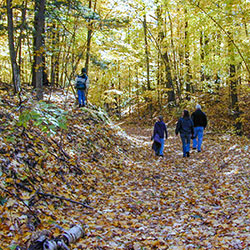 Location: 6 Miles of Trails located 19 Miles West of Harrisville via M-72. Turn left and travel south on Forest Road 4243 to parking lot.
Hours: Open year round
Contact: Huron Shores Ranger Station (989) 739-0728
Reid Lake Area is a little over 3,000 acres in size. The forest in the area is primarily hardwoods and creates a small, remote, lake environment. The lake is a small, 13-acres, with a variety of fish. Twelve miles of gently rolling trail will lead you around Reid lake. The trails are open for back-country skiing in the winter, and are not groomed. Difficulty on the trails ranges from easy to more difficult.
Corsair Hiking Trail
Location: about 7 miles northwest of East Tawas on Monument Road
Parking: The Corsair Picnic Area on the west side of Monument Road; the Wrights Lake lot located on Tuttle Road; the Silver Valley Lot on the east side of Monument Road
Season: Open year-round
Total Trail Length: 28.3 miles
Near Tawas City, the Corsair Ski Trails are nestled in the beautiful Silver Valley area, surrounded by the 120,000 acre Huron National Forest. The Corsair system is one of the largest groomed trail networks in Michigan. The 56 kilometers of interconnecting trails cross forest and meadows, hills and valleys. They take you through sunny open vistas, into hushed stands of sweet-smelling fir and towering hardwoods, and along the edge of winding ice-locked streams. Corsair Trails is the site of the Silver Creek Challenge, a citizen race held the last Saturday of each January. The Corsair Trail Council operates and maintains the Corsair Skiing and Hiking Trail and the Highbanks Trails (both are located in the Huron National Forest).