Travel Planner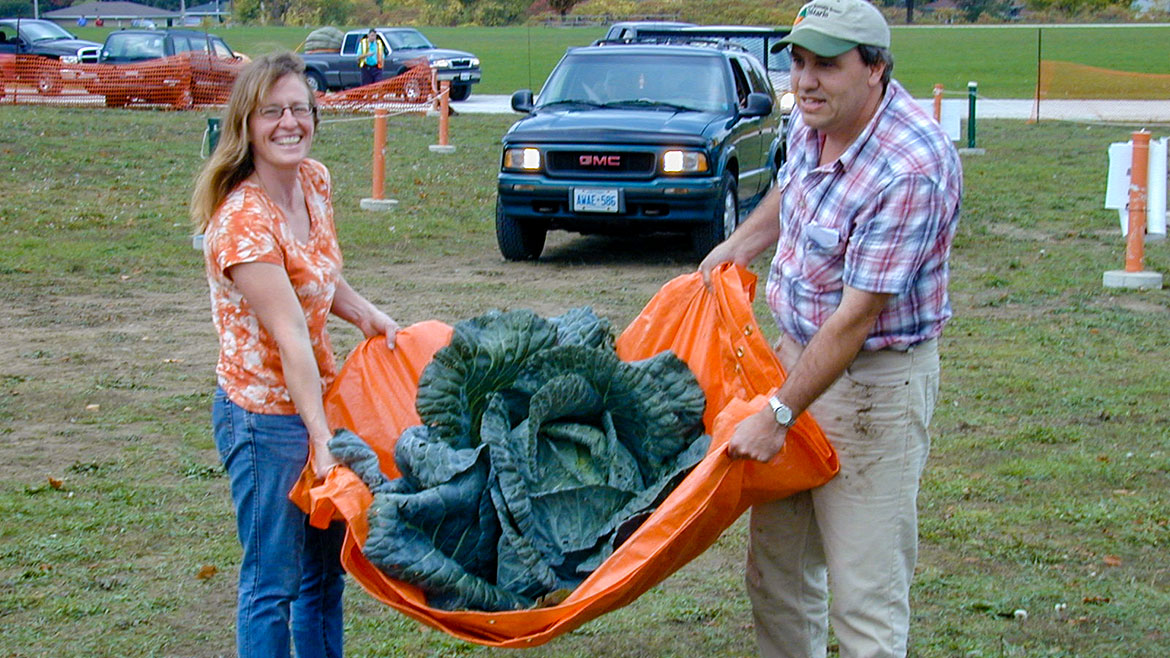 "Fall Harvest in Ontario"
Episode #1612 Travel planner
So, you thought that the 1-pound cucumber in your garden was big? Wait until you see these 500-pound squash! Big veggies, classic cars, a canoe trip, an orchard visit, hot tubs and elegant dinners make this the perfect autumn Great Getaway.
Port Elgin
Tourism continues today in Port Elgin as one of the town's main industries. Thousands of visitors come to the area for year-round recreation and to participate in festivals such as Pumpkinfest and its famous Antique and Classic Car Show or the Canadian Big Band Festival. The town was named after James Bruce, Eighth Earl of Elgin and Kincardine, who was Governor General of Canada from 1846 to 1854.
Pumpkinfest
Location: Port Elgin, Ontario
Along with giant vegetables and cars Port Elgin Pumpkinfest has more than 45 events and attractions to give the whole family lasting memories. With more than 1000 volunteers and 60 non profit groups, Port Elgin Pumpkinfest continues to be recognized as one of Ontario's top events.
Bruce County Tourism
Location: Ontario, Canada
Located only 2 hours northwest of Toronto, the 'Bruce' as it's known locally is bordered by Lake Huron, Georgian Bay and the Niagara Escarpment. There are over 850 kilometres (531 miles) of coastline to explore.
Antique & Classic Car Show
Location: Port Elgin, Ontario
If its cars you want then take a "Walk Down Memory Lane" at our Cinderella's Carriage Antique and Classic Car Show. This outdoor car show fills the streets of Port Elgin in one of Ontario's largest two day shows.
Grosvenor's of Southampton
Location: 24 Grosvenor Street South - Southampton Ontario, Canada N0H 2L0
Casual fine dining, internationally acclaimed. Located in a renovated former railway station. Full menu-innovative Canadiana cuisine, featuring fresh local wild game, fish and meats, housemade pastas, gourmet breads and pastries. Open for dinner at 5pm 7 days a week. Reservations recommended.
Lost Gardens Retreat Centre
Location: 1558 Conc. 12 RR#1 - Port Elgin, ON N0H 2C5
Phone: (519) 832-2331
Host / facilitator / certified hatha yoga teacher is Sue, who joins her husband, sometime residents (son & daughter in university,) and one friendly canine in welcoming you to LOST GARDENS. The 10 acres of meadow and hardwood forest is named "LOST GARDENS" due to the on-going project to renew a botanical gardens, which was in its prime at the turn of the century!
Yurt Camping
These semi-permanent canvas-covered structures are 16 feet in diameter, mounted on a wooden deck about two feet off the ground. Yurts can accommodate up to six people. They have two sets of bunk beds, a table and chairs, plywood floors, electric heat and lighting, and a propane barbecue.
MacGregor Point Provincial Park
A complex ecosystem unfolds at this all-season park on a seven-kilometre stretch of coast on Lake Huron. Guided walks by the shore and through silver maple swamps, cattail marshes, ponds, fens and bogs reveal unusual inhabitants. Carnivorous (meat-eating) plants make this their home. Rare dwarf lake iris and the elusive spotted turtle appear in the spring. Migrating birds, including the black-crowned night heron and the American egret, stop here to snack. Winter visitors can camp in yurts and cross-country ski.
Thorncrest Outfitters
Thorncrest Outfitters is your outdoor adventure centre for canoe, kayak, bicycle, hiking, birding and winter pursuits. We offer complete canoe and kayak trips on the Saugeen and Rankin Rivers, as well as open water paddling on Georgian Bay and Lake Huron.
Friends of MacGregor
The Friends of MacGregor Point Park is an not-for-profit, charitable organization whose primary mandate is to support the interpretive, educational and research programs at MacGregor Point Provincial Park. Led by a volunteer Board of Directors, we support the objectives of Ontario Parks - protection, heritage appreciation, outdoor recreation and tourism.
Denny's Dam
Denny's Dam Conservation Area is located 5 km north of of Southampton. The area is accessible via Denny's Dam road just off Highway 21, north of Southampton. This area is a popular docking point for canoeists enjoying the Saugeen River canoe route. Facilities present at this Conservation Area include privies, parking and a picnicking area. Camping is permitted at this park.
Saugeen River
The Saugeen River originates in one of the highest points in Southwestern Ontario and flows through rolling scenic countryside to Lake Huron, at Southampton.
Saugeen River Fishing
Bait, lure or fly? No matter what your prefer you'll get hooked on Saugeen Country! Upstream from Lake Huron you will find one of Ontario's best trout and salmon runs. The Saugeen River's naturally sheltered feeder streams and spring-fed lakes are also prime waters for brown trout, bass and pike.
Saugeen First Nation Amphitheatre
This lovely outdoor theatre located in the heart of the village of Saugeen overlooks the scenic Saugeen River and is one of the most fascinating outdoor theatres in the Province. View the rock gardens or visit one of the nature trails, which offer a unique excursion into the unrefined beauty of the area.
Smiths' Apples and Farm market
Located in Port Elgin, Ontario, Smiths' is a new orchard designed to produce top quality fruit on easy-to-pick dwarf apples trees. Smiths' is a friendly place located on a quiet country road, and is family owned and operated by Steve and Micki Smith.
Hi-Berry Farm
Located in Saugeen Shores, Ontario along the beautiful shores of Lake Huron, Hi Berry Farm grows a wide variety of fresh fruits and vegetables. Everything that they sell is grown on their own 120 acres of perfect sandy loam soil.