Travel Planner
"Grayling: An Outdoor Sanctuary"
Episode #1609 Travel planner
Our constant pursuit for great Hiking, Biking and Canoeing and all the outdoors takes us to Grayling Michigan to discover all these and more.
Fly Fishing the "Holy Water"
Location: AuSable River's "Holy Water" 9 miles between Burton's Landing and Wakeley Bridge

GATES AUSABLE LODGE
Location: 471 Stephan Bridge Road - Grayling MI
Phone: (989) 348-8462
The headwaters of the Au Sable rise northwest of Grayling and flow eastward, eventually feeding into Lake Huron. As we enter the main stem of the river, you can see why many Michiganders refer to the Au Sable as the "holy waters." With great cover for holding the trout, there are plentiful (and sizeable) brown trout, rainbow and brook trout. Natural aquifers feed the river and its tributaries with cool clean water needed by the trout population to thrive.
It does not matter if you are trying fly fishing on the Ausable for the first time, or if you did not bring all your equipment, there are fly fishing shops where you can acquire everything you need. There are wide selections of the proper clothing, staff to help you find the perfect waders, and the right rod and reel and creel. The shops also sell fishing licenses, trout flies (including favorite local patterns), and live bait. They can advise you on current hot spots, fly hatches and directions as well as how fishing regulations vary between sections on the river.
Paddling the AuSable River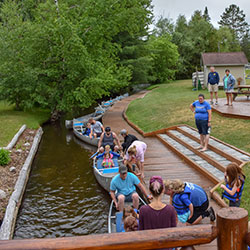 PENROD'S AUSABLE CANOE AND KAYAK
Location: 100 Maple Street - Grayling MI
Phone: (800) 467-4837

BORCHER'S CANOE AND LIVERY
Location: 101 Maple Street - Grayling MI
Phone: (989) 348-4921 | (800) 762-8756
Canoeing or kayaking through beautiful forests of pine, birch and cedar on rivers perfect for beginners, couples, families or large groups is the ideal way to enjoy a warm summer day or to view magnificent fall colors. Penrod's Canoe & Kayak is located on the world famous AuSable River Mainstream. The Headwaters of the AuSable River is considered "holy water" to fishermen. But when it comes to canoeing, the river begins at the dock of Penrod's Au Sable Canoe & Kayak. Borchers AuSable Canoe Livery with Bed & Breakfast is family owned, operated, and oriented and is located in the heart of Grayling, Michigan on the beautiful AuSable River.
Paved Bike Trails
Grayling Bicycle Turnpike: 11 Miles connecting Hartwick Pines State Park, Downtown Grayling and Hanson Hills Recreation Area
The Grayling area offers a paved pathways system that is over 11 miles long. 6 miles of the trail is an extended shoulder that runs to Hanson Hills Recreation Area. From town to Hartwick Pines State Park, the trail is a separate pathway. It is a family friendly, paved hiking & biking trail. Once at Hartwick Pines State Park, the only fee to enter the state park is a Michigan Recreation Passport; people on foot or bike entering the park do not pay a fee.
Hanson Hills Recreation Area
Mountain Bike Trails / Disc Golf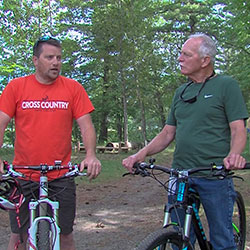 Location: 7601 Old Lake Road - Grayling MI
Phone: (989) 348-9266
The Hanson Hills Recreation Area provides a mix of single track trails that travel through a variety of rolling hills covering over 1,500 acres of recreational playground. Riders of all calibers can challenge themselves on this scenic trail that incorporates fast single track, hill climbs and fun descents. Experience some amazing single track trails that incorporates the rolling terrain and oak forests that surround Hanson Hills Recreation Area. Over 20 miles of trail is sure to challenge all abilities. $2 per day donation.
Hansen Hill Recreation Authority is now offering two Disc Golf courses. Both courses were established and funded by the Grayling Rotary Club. The fee to play is by suggested donation of $2 which players can leave at the donation tube located at the starting hole. PDGA Course "Hill Course": features 24 holes that plays over 2 miles up and over our downhill ski area. Pine Knoll Course: features 18 holes "flat course" that has multiple pin and tee placements that change throughout the season. Disc Golf Leagues are played during summer months.
Hartwick Pines State Park
Location: 3612 State Park Drive - Grayling MI
Phones: (989) 348-7068
Hours: 8am - 10pm Year Round
With an area of 9,672 acres, Hartwick Pines is one of the largest state parks in the Lower Peninsula. The park's rolling hills, which are built of ancient glacial deposit, overlook the valley of the East Branch of the AuSable River, four small lakes and unique timber lands. The principal feature of this park is the 49-acre forest of old growth pines which gives the park its name. This forest is a reminder of Michigan's past importance in the pine lumber industry as well as a source of inspiration for the future of our forests. The park is rich in scenic beauty and because of the different habitats it encompasses, there is ample subject matter for the sports person, photographer, or naturalist throughout the year.
Downtown Grayling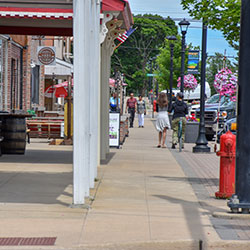 Location: Crawford County, Michigan
Numerous restaurants and bars offering casual dining are located in Grayling. Some display rustic décor, some offer unique Northern Michigan or Grayling specialties, while others focus on 50's type dining or on local celebrities. Grayling and Crawford County are proud of a unique collection of retail shops and restaurants. Browse for antiques and collectibles, souvenirs, pottery, top of the line home accessories and fashion wear. Full service restaurants, breweries, delicatessens and bars offer a variety of meal options. Florists and distinctive gift shops have developed a nationwide clientele.