Travel Planner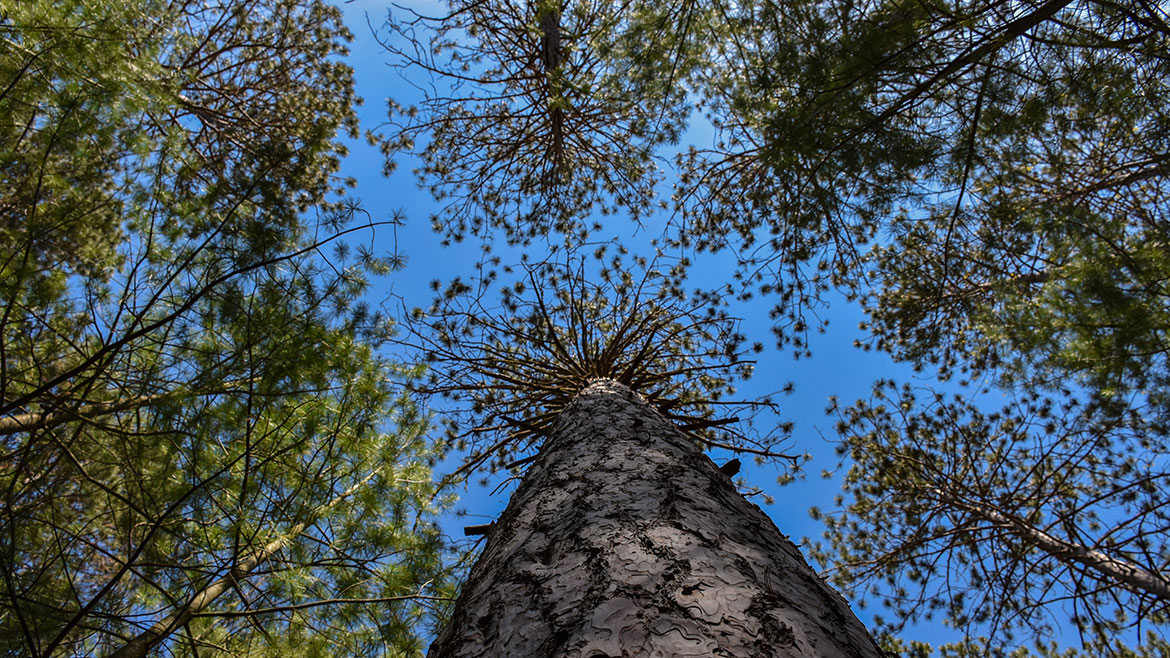 "Roscommon Trails"
Episode #1504 Travel planner
From ORV trails where we take the Jeeps off road onto giant, punishing rocks to trails that take us disc golfing and kayaking to trails that take us through an old growth forest, this trip is about trails of all kinds.
ORV Trails / St Helen Motorsports Area
ORV TRAILS
Location: throughout Roscommon County

ST HELEN MOTORSPORTS AREA
Location: 2 Square Miles south of Airport Road and west of Meridian, just outside of St. Helen, MI
Let's get muddy. Let's rev up our engines and venture out on hundreds of miles of the best ORV trails in the State of Michigan. Here two-track, twisty single-track, and soggy mud bogs welcome dirt bikes, quads and four-wheelers. The nearly 60 miles of recreational trails attract visitors from miles away and all walks of life. One of the main attractions for hard-core four-wheel drive enthusiasts is the challenge of the six rock crawl courses constructed by the Michigan Department of Natural Resources in 2010. Designed for standard four-by-four pick ups and street legal jeeps, it takes a lot of skill, patience and often goading to try the challenging course. But for the rest, the St. Helen Motorsports Area offers just about everything ATV and ORV riders could want.
Lost Twin Lakes Pathway
Location: AuSable State Forest | 7 miles south of Houghton Lake via M-55 & S Reserve Road (County Road 401)
Trail Length: 3.3 Miles
Phone: (989) 821-6125
The main attraction along the Lost Twin Lakes Pathway is its century-old white pines that can be seen along the trail. The 3.3-mile looped pathway takes hikers and bicyclists through the rugged area of Lost Lakes and features a varied of topography that includes ridges, wetlands and swamps. There are boardwalks that cover the wettest areas. It is located just south of Houghton Lake in Roscommon County. The pathway is managed by North Higgins Lake State Park.
Red Pines Natural Area Pathway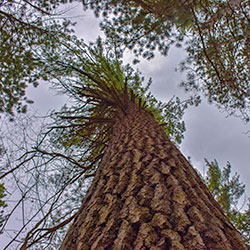 Location: AuSable State Forest | 8 miles north of St. Helen via F-97 and Sunset Road
Trail Length: 1.4 Miles
Phone: (989) 821-6125
This 1.4-mile pathway runs through an area called the Roscommon Red Pines Natural Area in the Au Sable State Forest. Visitors will be treated to views of a grove of virgin red pine - one of the best stands in the Central Lowland portion of the United States. This grove is typical of the former virgin pine forest that once covered a considerable portion of the upper middle section of the Lower Peninsula. The stand provides evidence of fires from 1798, 1888 and 1928 and contains a former national champion red pine.
The interpretive pathway encompasses 16 stops that helps teach visitors about the natural history and natural processes of this forested ecosystem. You'll walk through a mature jack pine stand with dappled sunlight filtering through the canopy, learn about Michigan logging activities in the early 1900s and find 10,000-year-old evidence of Michigan's glaciers. You may also spot turkey, deer, woodpeckers, owls and porcupines, among other wildlife.
Houghton Lake Collaborative Blue Water Trail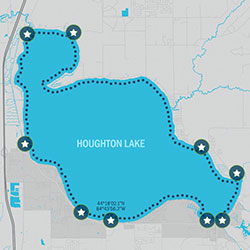 Location: 9 Launch Sites around Houghton Lake
1 DNR South Boat Access | Townline Road north of M-55
2 Sullivan Beach Park | Park Street - Prudenville
3 Trestle Park | Gladwin Road - Prudenville
4 Harvey's Marina | Houghton Lake Drive
5 DNR East Boat Access | Markey Township (44.338938, -84.663554)
6 State Forest Campground | Bayview Street
7 Northshore Lounge | West Shore Drive
8 DNR West Boat Access | north of M-55 on Old US 27
9 Lakeview Park | Federal Avenue & M-55
Denton Township and Roscommon Township began creating the "Blue Water Trail," in conjunction with Gosling Czubak Engineering Sciences, Inc in 2016. The kayak and canoe trail features launch sites and stops around Houghton Lake. There are public restrooms at most of the launch sites and there are plans to expand both the trail and facilities.
Skinner Park Fitness Trail / Disc Golf
Location: 8555 Knapp Road - Houghton Lake | Roscommon Township Hall Parking Lot
Fitness Trail: 3/4 Miles
Disc Golf Course: 9 Holes
Skinner Park offers softball fields, pavilions, a walking trail, and soccer fields. This park is located at the Roscommon Township Hall site. A fitness trail is located at Skinner Park with nine fitness equipment stations through the pine trees. A 9-hole Disc Golf Course is now to the public. Entry to the course is located at the Skinner Park on Knapp Road.