Travel Planner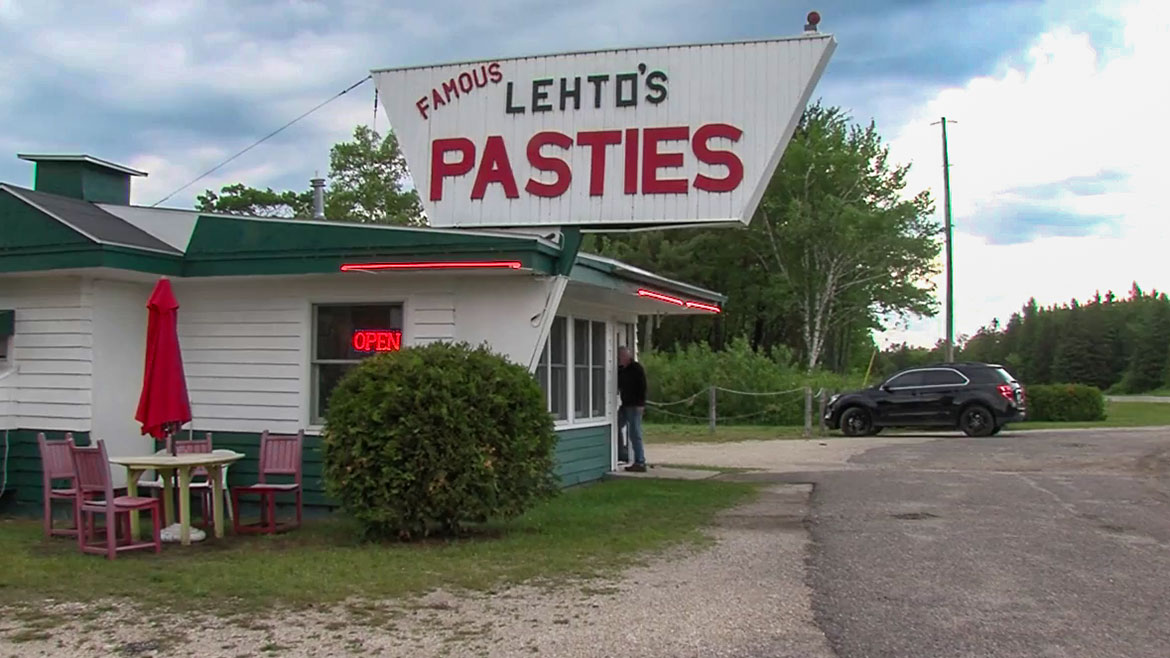 "Top of the Lake Scenic Byway"
Episode #1503 Travel planner
Michigan's newest Scenic Byway and maybe its most beautiful starts in St. Ignace and travels west to Thompson all along the top of Lake Michigan.
US-2 Top of the Lake Pure Michigan Byway
Location: 92 Miles along north shore of Lake Michigan from St. Ignace to Thompson, Michigan
Part of US Highway 2 is the newest highway segment to be designated a Pure Michigan Byway under the state's rebranded byway program. The US-2 Top of the Lake Byway runs 92 miles from St. Ignace to Thompson, hugging the picturesque northern shoreline of Lake Michigan. It was chosen for the designation based on its outstanding recreational and scenic qualities.
Castle Rock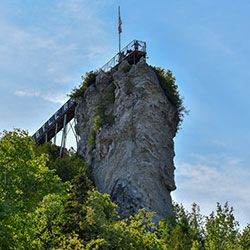 Location: N2690 Castle Rock Road | St Ignace, MI
Phone: (906) 643-8268
Castle Rock is considered to be one of the oldest lookout points near St. Ignace and was known as "Pontiac's Lookout" by the Ojibwa Tribe. It rises an astonishing 195 feet above water level offering a scenic and inspiring view for up to 20 miles, featuring Mackinac Island, Lake Huron, downtown St. Ignace and wildlife habitat. The lookout point is equipped with viewing binoculars for a spectacular view of the area. Our gift shop features a birch bark ceiling and walls hand crafted by local Native Americans in the early 1950s.
Mackinac Bridge
Location: on Interstate 75 at the Straits of Mackinac
Toll: $2 per axle for passenger vehicles ($4 per car). $5 per axle for motor homes, and commercial vehicles.
Phone: (586) 533-0141
Hours: 6am-10pm
The Mackinac Bridge is a suspension bridge spanning the Straits of Mackinac to connect the Upper and Lower peninsulas of Michigan. Opened in 1957, the 8,614-foot "Mighty Mac" is the world's fifth-longest in total suspension and the longest suspension bridge between anchorages in the Western hemisphere. The Mackinac Bridge connects the city of St. Ignace on the north end with the village of Mackinaw City on the south.
Gros Cap Roadside Park
Location: US-2 8 miles west of St Ignace
While traveling the scenic byway there are many opportunities to safely pull over, get out of your vehicle, grab your phone, camera and binoculars to take in resplendent views of the lake, islands and points of interest like the Gros Cap and Saint Helena Island Overlook 8 miles west of St. Ignace.
Lehto's Pasties
Location: 1983 W US2 | St Ignace, MI
Phone: (906) 643-8542
Lehto's Pasties was started in 1947 by Mr. Lehto after he served in WWII and was honorably discharged from the army in 1946. It is one of the Original Famous Pasty Shops located in Michigan's Upper Peninsula. Lehto's is still family owned and operated to this very day by John and Katherine, along with niece Laurie and her husband Bill Walker.
Cut River Bridge Roadside Park
Location: US-2 | Epoufette, MI
One of only two cantilevered deck truss bridges in Michigan, it is 641 feet long and contains 888 tons of structural steel. The State Highway Department designed this structure, and W.J. Meager and Sons, Contractors, built it. Unique bridge with panoramic views of Lake Michigan, walking paths and access to Cut River and lake via scenic staircase. Great views in all seasons.
Hog Island Campground / Store
HOG ISLAND POINT STATE FOREST CAMPGROUND
Location: US-2 | Naubinway, MI

HOG ISLAND COUNTRY STORE AND COTTAGES
Location: W8294 US2 | Naubinway, MI
Phone: (906) 477-9995
Hog Island Point State Forest Campground sites available on a first-come, first-serve basis. No reservations. 50 sites able to accommodate 40-ft vehicle/trailer. Located just off US-2 along Lake Michigan with beach area and fishing access. Rustic campground includes vault toilets and potable water from well hand pump. Location: seven miles East of Naubinway via US-2.
Tucked away just 35 miles west of the Mackinac Bridge on U.S. 2 and the big blue of Lake Michigan, travelers will find a neat white row of cottages and a cozy country store.
Opening the door to the store is like stepping back in time. Owners Tom and Sandy Jacobs invite you to browse the many unique Upper Peninsula items that can be found there, from homemade jams and jellies, smoked fish, pasties and just about anything else a weary — or thirsty — traveler may need.
Naubinway
NAUBINWAY REST AREA
Location: N 46° 05.421' by W -85° 23.30'

TOP OF THE LAKE SNOWMOBILE MUSEUM
Location: W11660 US2 | Naubinway, MI
Phone: (906) 477-6298
You know when you are in the upper peninsula and traveling along the scenic byway there are distances between towns and facilities. Whether you need the restrooms or not, the halfway rest stop offers a scenic overlook of Lake Michigan in the midst of a lushly forested setting.
The Top of the Lake Snowmobile Museum is a non-profit, 501c3, antique, vintage and classic snowmobile museum in Naubinway, Michigan.The museum, fundraisers and events provide a one-of-a-kind experience for people of all ages.
U.P. Sugar Shack
Location: 760 W US2 | Blaney Park, MI
- Out of Business -
The U.P. Sugar Shack is a Majszak family business started in 1967. Mark Majszak bought the business in 1996 and moved to the Upper Peninsula, looking for a spot where people travel, a spot that was easy to find and a spot with plenty of maple trees. Historic Blaney Park is perfect in every way.
It takes about 40 to 45 gallons of maple sap to make one gallon of Pure Maple Syrup. The U.P. Sugar Shack carries 100% Pure Maple syrup, maple sugar, maple spread, Michigan Honey and homemade jams! Enjoy Real Michigan Maple Syrup....nothing added, only water removed from the maple sap. Truly a sweetener you can trust. Enjoy the delicate, distinctive taste of pure maple syrup, direct from the family farm.
Gulliver / Seul Choix Point Lighthouse
GULLIVER LAKE
Location: 12 Miles East of Manistique, Michigan along US HWY 2
Boating Access Site: Lat: 45.987867, Long: -86.042474 A hard-surface ramp with sufficient water depth and lake or impoundment size to accommodate all trailerable watercraft (minimum of 2.5 - 3 feet deep at a distance of 20 feet from shore). The site is signed.

SEUL CHOIX POINT LIGHTHOUSE
Location: 672 N West Gulliver Lake Road, Gulliver, MI 49840
Phone: (906) 283-3183
Gulliver Lake can be described as a pristine lake teeming with fish waiting to be caught. Game fish that can be found at Gulliver Lake include Bluegill, Northern Pike, Pumpkinseed, Rock Bass, Smallmouth Bass, Walleye and Yellow Perch.
Seul Choix Point Lighthouse (pronounced SIS-SHWA) in nearby Gulliver, Michigan was built to light the way for the increasing number of vessels carrying the iron ore that was being shipped out of Escanaba, MI. Seul Choix Point Lighthouse is now a community park for everyone to enjoy. Built in 1895 this light, whose name is French for "only choice", was once the center of a thriving fishing community in the only harbor of refuge along this stretch of Lake Michigan. Today, the lighthouse complex is the only thing that remains active.
Manistique Area
KITCH-ITI-KIPI (THE BIG SPRING) at PALMS BOOK STATE PARK
Location: LAT 46.004772000000003 LONG -86.385047 at the northern terminus of state highway M-149, Manistique, MI 49854
Approximate Size: 388 Acres
Phone: (906) 341-2355

THOMPSON STATE FISH HATCHERY
Location: 944 South State Highway M-149 | Manistique, MI
Phone: (906) 341-5587

MANISTIQUE LAKESHORE CAMPGROUND
Location: 320 Traders Point | Manistique MI
Phone: (906) 286-1696
Palms Book is a rewarding side trip for the vacationer touring the Upper Peninsula, for here can be seen one of Michigan's alluring natural attractions -- Kitch-iti-kipi, The Big Spring. Two hundred feet across, the 40-foot deep Kitch-iti-kipi is Michigan's largest freshwater spring. Over 10,000 gallons a minute gush from fissures in the underlying limestone. The flow continues throughout the year at a constant 45 degree Fahrenheit. By means of a self-operated observation raft, visitors are guided to vantage points overlooking fascinating underwater features and fantasies. Ancient tree trunks, lime-encrusted branches and fat trout appear suspended in nothingness as they slip through crystal waters far below. Clouds of sand kept in constant motion by gushing waters create ever-changing shapes and forms, a challenge to the imagination of young and old alike.
The Thompson Fish Hatchery is located about eight miles west of Manistique on County Road 149. It is one of six hatcheries operated by the Fisheries Division of the Michigan Department of Natural Resources and is open for tours. Most of the hatchery's annual production is cold water species such as brook trout, splake, brown trout, rainbow trout and chinook salmon most of which is planted in Upper Peninsula waters.
The new Manistique Lakeshore Campground provides the ideal setting for today's camping experience. Whether you want full amenities with convenient pull-through sites or rustic camping, Manistique Lakeshore Campground has it all. Located on beautiful Lake Michigan, Manistique Lakeshore Campground is within easy walking and driving distance of many unique attractions: Pictured Rocks National Lakeshore, beaches, golfing, lighthouses, waterfalls, winery, Kitch-iti-Kipi (The Big Spring), Manistique Boardwalk and River Walk, and local shops.