Travel Planner
"Annual Heritage Coast Sail Days on Lake Huron"
Episode #1501 Travel planner
This event includes a Traditional Boat Regatta where handmade rowing and sailing boats compete. If you build it, they will come and that is exactly what they did for this event. Then it's on to celebrate and enjoy good music and good food.
Tawas Bay Area
Phone: 877-TO-TAWAS
From its breathtakingly beautiful harbor, blue water of Lake Huron and sandy family beaches, Tawas Bay is perfect for all kinds of recreation. This show proves it is the perfect getaway for kids of all ages to play, picnic, and relax and enjoy exciting events like the traditional boat regatta during the "Annual Heritage Coast Sail Days." Today we celebrate a great summer getaway on Michigan's Sunrise Shore.
Making A Boat
Location: Heritage-23 | East Tawas State Dock
Contact: (989) 460-2642
Heritage Coast Sailing and Rowing Inc. is a Michigan not for profit corporation, incorporated in February 2012. Their purpose is to encourage boat building, sailing and rowing in traditional regional boats.
Tawas Bay Traditional Boat Regatta
Location: Tawas Bay | East Tawas State Dock
Tawas Bay Traditional Sailing and Rowing Craft Regatta races are conducted for traditional rowing and sailing boats. Such boats are defined as fixed-seat, rowing and/or sailing boats that are constructed primarily of wood and are of historic design. Three races are planned: Taylor's Race Against the Clock, Tawas Bay Dash, and Tawas Bay Traditional Sailing Craft Race.
The Regatta is part of Heritage Coast Sail Days which bring two tall ships to Tawas Bay. Heritage Coast Sail Days offers many types of sails throughout the day and evening to provide you with the sailing experience you've only ever dreamed about.
Mr. Jack'ss Sports Bar & Grill
Location: 105 W Westover Street - East Tawas, Michigan
Hours: 11am - 2am
Contact: (989) 305-6506
Amazing service, enjoyable atmosphere, awesome food, outstanding menu, great prices, what more could you ask for? The ultimate atmosphere for friends, families and sports fans of all ages. Enjoy a friendly environment for anyone to sit down and have a meal year-round. Kitchen open untill at least ten every night, limited menu from 10 untill 2 am.
Music Festivals
TAWAS BAY SUMMERFEST
Location:Events in Tawas City and East Tawas
2021 Dates: July 10-11

TAWAS BLUES BY THE BAY
Location:Harbor Park (Newman Street & US-23) | East Tawas
2021 Dates: August 27-29

DOWNTOWN TUESDAY NIGHT LIVE
Location:Newman Street | East Tawas
When: Tuesdays late June - mid August
Whether you are in the Tawas Bay area for an extended vacation or a quick getaway, music festivals make your stay more enjoyable. There is Summerfest - three days of family fun with music, a street dance, Kiwanis 5K Run/Walk, car show, Mayor's Fish Boil, Sand Castle Contest for kids, and more fun in the sun. Blues by the Bay features three days of non-stop blues music. Relax and get your groove on under the Big Tent with quality bands from throughout Michigan and the Midwest. Tuesdays late June - mid August, you will find yourself Downtown for Tuesday Night Live where you will be tapping your toe, singing along and bring the whole family for performances, kids activities, face painting, balloons, chalk art, surprises galore on Newman Street in East Tawas.
Iosco County Historical Museum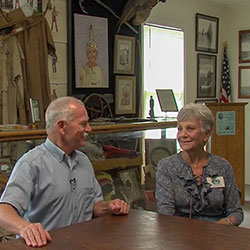 Location: 405 w Bay Street - East Tawas, Michigan
Phone: (989) 362-8911
This beautiful home, over 100 years old, is filled with memories from all corners of the county. Renovations were recently completed inside and out. Artifacts and exhibits include local industry, families, culture and traditions. All this along with a fresh new approach to presenting and preserving local history by the losco County Historical Society have made it so much more than "just" a Museum.
Tawas Point State Park
Location: 686 Tawas beach Road - East Tawas, Michigan
Size: 183 Acres
Phone: (989) 362-5041
Tawas Point has been referred to as the "Cape Cod of the Midwest." The campground is located on Tawas Bay where the water is shallow and warm for swimming. In the park is the Tawas Point Lighthouse which serves as the sole representative of a true Victorian-era style station on the Great Lakes. The park's expansive day-use beach offers acres of glistening white sugar sand, sprinkled with patches of dune grass and backed by low dunes on the Lake Huron side.
Kayaking Tawas Bay
TAWAS BAY PADDLE SHACK
Location: Shoreline Park | 429 W Lake Street - Tawas City, Michigan
PHONE: (989) 820-8060
Kayaking the crystal clear waters of Lake Huron is just plain fun. The natural beauty of the crystal clear waters give you an up close look at nature. It is great to go out with friends, good exercise, and if it is a bit rough on the lake, it makes for a great adventure. Tawas Paddle Shack rents paddle boards and kayaks. They will take group reservations, birthday parties and other events. Contact them for sunset and sunrise paddles or river paddles. They will set up a fire pit for your group with chairs and other amenities with prior reservations.
Picnic at Foote Pond Overlook
MAR'S BY THE BAY
Location: 108 S Newman Street - East Tawas, Michigan
Phone: (989) 362-0062

KLENOW'S MARKET
Location: 201 Newman Street - East Tawas, Michigan
Phone: (989) 362-2341

BREW KREW
Location: 211 Newman Street - East Tawas, Michigan
Phone: (989) 362-8730
There is something about the fresh air, sunshine and friendly people of the Tawas Bay area that draw you to the out of doors and a picnic lunch is one way to experience it all.
Mar's By The Bay is a gourmet convenience store featuring Michigan beers and wines. Gift baskets. Prepared food with salads, sandwiches, wraps, etc. Salmon spread. Fresh baked bread. Smoked whitefish spread, homemade pies and cookies. Bait and tackle, ice.
Klenow's Market is your local family-owned meat market/grocery store. We are conveniently located at the corner of Newman Street and Westover Street in downtown East Tawas, only one block from the East Tawas State Harbor and the East Tawas City Park Campground. Klenow's Market has been providing residents and visitors alike with superb service and wholesome products since 1900.
Brew Krew on Newman Street features Gourment Food, Fine Wines, Craft Beer Room, Gift Baskets, Kitchen & Bath Accessories, Candles, Soap Lotions and Much More.
The River Road National Forest Scenic Byway is one of a growing number of scenic byways established since 1988 for the enjoyment of touring motorists and all who love natural beauty. It is a 22-mile, two-lane, paved highway along 4.3 miles of M-65 and 17.7 miles of a country road known as River Road, roughly paralleling the south bank of the famed AuSable River.