Travel Planner
"Where Is Baldwin?"
Episode #1406 Travel planner
Baldwin, Michigan holds many exciting adventures from canoeing the beautiful Pere Marquette River to hiking the incredible Sand Dunes. We will explore the exciting Ludington State Park and climb the circular stairs to the top of the Grand Sable Lighthouse.
Canoeing the Pere Marquette River
BALDWIN CANOE RENTAL
Location: 917 South M-37 - Baldwin, MI
Phone: (231) 745-4669
Baldwin Canoe Rental is West Michigan's largest & most complete provider of Canoeing, Kayaking and Rafting. The only Canoe Rental serving the permitted section of the Pere Marquette National Scenic River. Located near Baldwin Michigan, in the heart of the Huron Manistee National Forest, Baldwin Canoe Rental has been serving families and groups since 1968.
In July 1978 the Pere Marquette River was designated a National Wild and Scenic River, the first in Michigan. The river wanders gently across the central Michigan landscape; alternately hidden in the forested shadows and then opening up into the sinuous floodplains in its lower reaches. The river is the longest river system in the Lower Peninsula without dams or impoundments.

Nordhouse Dunes Wilderness Area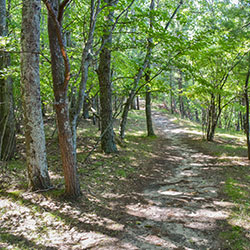 Size: 3,450 acres of National Forest
Location: Lake Michigan Shore, North of Ludington State Park (44.087486, -86.444676)
Phone: Cadillac / Manistee Ranger District (231) 723-2211
The Nordhouse Dunes Wilderness Area is a Federally designated wilderness in Michigan's lower peninsula and encompasses 3,450 acres of National Forest. The wilderness area is popular for hiking, camping, hunting, nature study and wildlife viewing. There are approximately 10-miles of trail that can be accessed from 2 developed trailheads at the end of Nurnberg Road and Lake Michigan Recreation Area.
Lake Michigan Recreation Area
Location: North of Nordhouse Dunes Wilderness Area along Lake Michigan (44.115658, -86.412449)
Open Season: May 4 - Oct 9
Phone: (231) 723-2211 Cadillac / Manistee Ranger Station
Lake Michigan Recreation Area is a four loop campground located on the shoreline to Lake Michigan north of the Nordhouse Dunes Wilderness Area. In addition to the 99 single family sites and 3 group sites, the site also boasts a day use area with multiple picnic tables, pavilions and a playground, an ampitheater and an overlook. There are two accesses for the beach, one at the end of both roads. There are several historical interpretive signs along the campground trails discussing history and dune ecology of the area. The Violet and Hemlock Loops have a pressurized water system. The picnic ground has a well system.
Ludington State Park
Location: 8800 W. M-116 - Ludington, MI 49431
Size: 5300 Acres
Phone: (231) 843-2423
Hiking Trails: 21.50 Miles
Ludington State Park is a favorite destination for hikers, fisherman, bikers, paddlers and campers. The park is home to three campgrounds, scenic sand dunes, an iconic lighthouse, marshlands, beaches and hardwood forests. The park is situated between seven miles of Lake Michigan shoreline and Hamlin Lake.
Ludington State Park is comprised of scenic sand dunes, beaches, an iconic lighthouse, ponds, marshlands and forests. It is situated between Hamlin Lake and Lake Michigan with several miles of shoreline and beaches on both bodies of water.
Big Sable Point Lighthouse
Location: 5611 N Lighthouse - Ludington, MI 49431 (Ludington State Park)
Phone: (231) 845-7417
Nestled among jack pines, just a quick two mile walk along a breathtaking trail, stands Big Sable's noble black and white tower. At over one hundred feet tall, this historic beacon is a huge attraction for its owner, Ludington State Park. The1867 lighthouse and grounds are operated by SPLKA, (Sable Points Lighthouse Keepers Association) a non-profit. Since 1987, their mission has been the restoration, preservation, education and accessibility of their lighthouse charges. Visitors are welcome to explore the grounds, tour the original Keeper's Quarters which have been converted into a Gift Shop, stroll along the sand dunes or climb the tower.