Travel Planner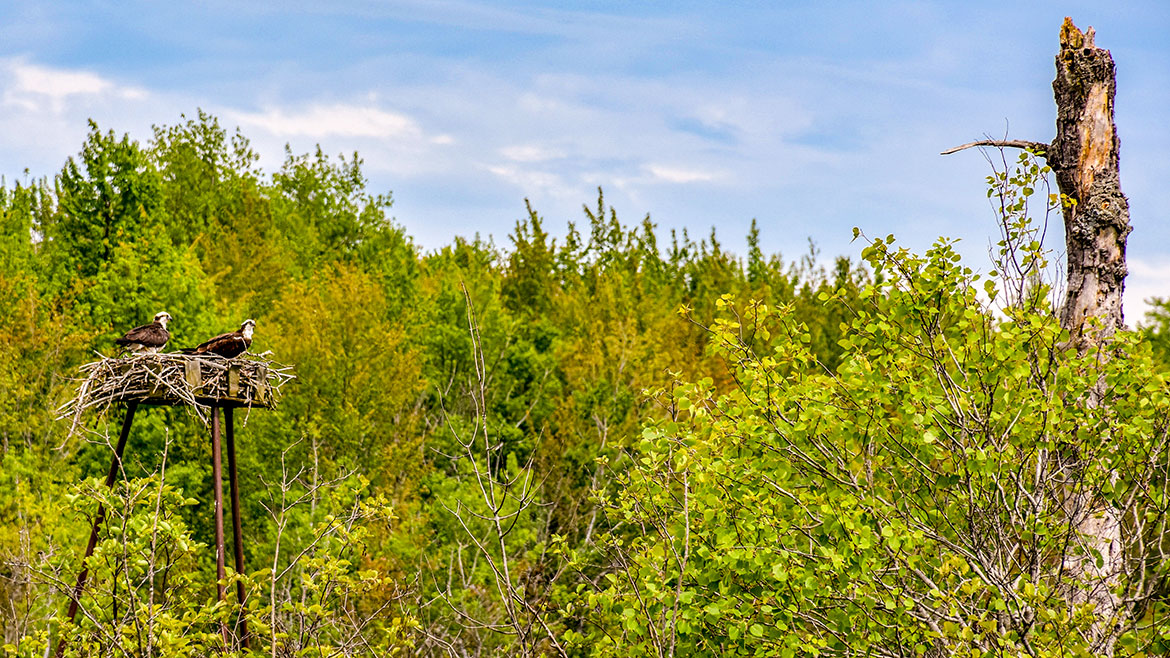 "Stay and Play - A Great Outing For All"
Episode #1404 Travel planner
When guys and gals want a getaway of their own, when families want to create memories, when couples want some spark, they head to the playground known as Michigan's Other Great Lakes. It is a smorgasbord of fun - shopping, fishing, hiking, golfing and more.
Shopping in Roscommon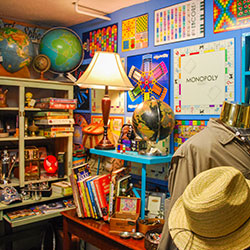 FIFTH STREET MARKET
Location: 104 N 5th St - Roscommon, MI
Phone: (989) 275-1515

ANTIQUES & UNIQUES
Location: 105 N 5th St - Roscommon, MI
Phone: (989) 275-8288

WHITE PINE & PETALS (formerly Bloomers Flowers & Gifts)
Location: 700 Lake Street - Roscommon, MI
Phone: (989) 275-4855

Lake Street Artisans:

BOHN-BOHN BEADS & GALLERY
Location: 407 Lake Street - Roscommon, MI
Phone: (810) 624-5657

THE MERMAID SHOP
Location: 102 N 5th Street - Roscommon, MI
Phone: (989) 280-8803
Fifth Street Market in Roscommon has been described as having a jaw dropping selection of craft beer and wines and a nice surprise in a small town. Across from Fifth Street Market is Antiques and Uniques, where your eye is drawn to every nook and cranny filled with a variety of the antique and unique. The uniqueness of shopping in the Village of Roscommon must include a visit to Bloomers. It is not just a flower shop or the place to go for flowers, but a place to find organic foods, gourmet confections and bath and body treats. To complete the walkable shopping experience of Roscommon the ladies found a series of places where local artisans met and shared their talents on Lake Street. The Mermaid shop had all sorts of new and used items of interest, all displayed with an artistic mermaid's flair.
Springbrook Inn / East Bay Grille / 'The Frog' Tiki Bar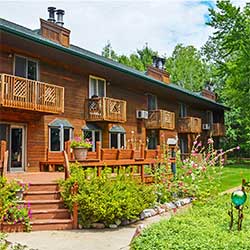 Location: 565 W West Branch Road (M-55) - Prudenville, MI
Phone: (989) 366-6347
Here is the perfect place for a romantic getaway or just a great meal and a drink and that's Springbrook Inn.
Fishing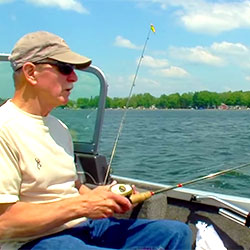 Michigan's Other Great Lakes
Whether you come to Roscommon County for a girlfriend getaway, as a couple or family, or with just the guys, fishing poles have to be packed for the trip. Roscommon County is known as the area of Michigan's Other Great Lakes, with its three most popular lakes, Houghton, Higgins and Lake St. Helen.
Fishing [Houghton Lake Visitors Bureau]
Farmers Markets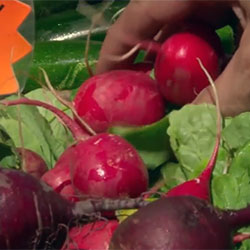 ROSCOMMON COUNTY MARKETS
Mermorial Day - Labor Day

ROSCOMMON VILLAGE MARKET
Location: 211 N 5th Street - Roscommon, MI
When: Saturdays

FARMER'S MARKET @ HOUGHTON LAKE PLAYHOUSE
Location: 1701 E Houghton Lake Drive - Houghton Lake, MI
When: Fridays

MARKET PLACE OF ST. HELEN
Location: 1709 N St. Helen Road - Saint Helen, MI
When: Saturdays
Local crafts and foods are offered at weekly Farmer's Markets in Roscommon, Houghton Lake and St. Helen. So different from the chore of grocery shopping at home, a visit to the Farmer's Markets and talking with the local vendors is such a delight. Fresh, organic foods. Homemade breads and jams. Well-crafted jewelry, soaps and collectibles – you will soon fill your basket with tasty morsels and gifts.
Golfing in Roscommon County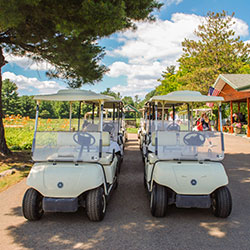 PINE VIEW HIGHLANDS
Location: 4761 W Houghton Lake Drive - Houghton Lake, MI
Phone: (989) 366-7726

THE QUEST
Location: 119 Questview Drive - Houghton Lake, MI
Phone: (989) 422-4516

12 GOLF COURSES:
throughout Roscommon County
The Houghton Lake Area boasts an even dozen great golf courses for you to enjoy. The next time you get the urge to take a break from the daily routine and enjoy a golf getaway, we're here waiting to spoil you. Golf packages are available from a anumber of the hotels, motels and resorts in the area. Be sure to ask about golf packages when planning your next golf outing.
Parks and Music
TRESTLE PARK & THE STONE HALL
Location: 2378 S Gladwin Road - Prudenville, MI
Monthly summer concerts at the Park or in Denton Township's Stone Hall

CRAF CENTER
Location: 606 Lake Street - Roscommon, MI
Phone: (989) 295-4975
The Summer Concert Series has guest appearances by a variety of performers including Jazz, Country Western, Folk and Folk Rock. These musical events are held at the Gazebo rain or shine, on Wednesday nights, throughout the summer.

MARKEY MEMORIAL PARK & K-9 CORNERS
Location: 3354 W School Road - Roscommon, MI
Throughout the summer free outdoor concerts are presented in Roscommon County. Trestle Park in Houghton Lake hosts concerts at the park or in the Stone Building in Denton Township, and Roscommon hosts concerts at the gazebo at the Craf Center. Bring a blanket, lawn chair and get ready for some toe tapping and sing along.
History
RICHARDSON SCHOOL & GALLIMORE BOARDING HOUSE
Location: 404 Lake Street - Roscommon, MI
Included in your family vacation should be plans to visit the Gallimore Boarding House and Richardson School House, preserved and hosted by the Roscommon Area Historical Society. The rooms are furnished in period style, and exhibits depict the history of the area. The Richardson School House served community from 1914-1955 and now displays an interior setting with many artifacts from Roscommon and surrounding area.
Osprey Nests
throughout Roscommon County
Enjoying the pristine beauty of Roscommon County and the great outdoors is a reason many visit the area. Another great way to experience the outdoors is enjoying its nature. We had a unique experience on our getaway there as we saw some of the county's 25 osprey nests up close and personal.
Marl Lake
SOUTH HIGGINS LAKE STATE PARK
Location: 106 State Park Drive - Roscommon, MI
Phone: (989) 821-6374
Marl Lake is part of the South Higgins Lake State Park and located across the road. It is perfect for a day of exploration, quiet reflection or family fun. The non-motorized lake has a small dock and launching ramp to put in your canoe, boat or kayak. Anglers can don their waders and walk off shore for some great perch and panfish fishing. Make use of the grill and picnic table for a family picnic. For fun and games, there is a number of geocaches hidden along the trail. Binoculars are a must for bird watchers – osprey, eagles, kingfishers and warblers are a few of the species spotted here. In the area around Marl Lake there are three loop trails: Green Trail - 2 miles of trail, Red Trail - 3.5 mile loop much of it on the edge of the lake, Blue Trail - 5.5 mile loop with half of it along the edge of the lake.