Travel Planner
"The Best, as Selected by Our Viewers"
Episode #1301 Travel planner
We have been keeping track of the comments and requests for information from our loyal viewers and today we will show you the best adventures as picked by you, our audience.
Michigan / Ontario
Mackinac Bridge
Location: on Interstate 75 at the Straits of Mackinac
Toll: $2 per axle for passenger vehicles ($4 per car) | $5 per axle for all others
The Mackinac Bridge is a suspension bridge spanning the Straits of Mackinac to connect the Upper and Lower peninsulas of Michigan. Opened in 1957, the 8,614-foot "Mighty Mac" is the world's fifth-longest in total suspension and the longest suspension bridge between anchorages in the Western hemisphere. The Mackinac Bridge connects the city of St. Ignace on the north end with the village of Mackinaw City on the south.
Skinners Bluff Lookout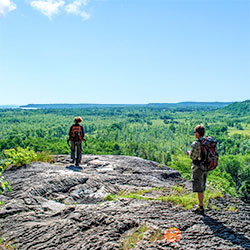 Location: Accessible off Grey County Road 26 and Township Roads 23-24 and 20-21, Wiarton, ON, Canada
Phone: (519) 376-3076
For a spectacular view of ruralscapes and Georgian Bay this is the spot to bring your camera. Located northeast of Wiarton, atop the Niagara Escarpment, accessible off Grey County Road 26 and township roads 23-24 and 20-21. Parking is available along the roadside.
On your return, don't forget to walk the trail to Bruce's Caves. One of the few ancient sea caverns that remains completely natural on a trail, there are no stairs or viewing platforms. You can rock scramble your way to every corner of this cavern.
Musky Fishing | Lake St. Clair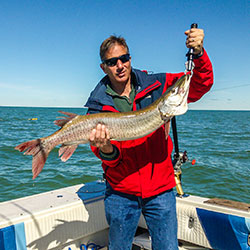 FISH HEADZ SPORT FISHING CHARTERS
Location: Lake St. Clair, St. Clair Shores, MI
Open Season: May 4 - Oct 9
Captain Joel Piatek: (586) 243-0914
Fish Headz is a professional outfitter providing TOP-NOTCH fishing experience on Lake St. Clair catching some of the countries most south after targets: Walleye, Perch, Bass, Muskie and Sturgeon. As a resident with over 30 years experience fishing and hunting the area, Captain Joel knows what the hot bite is and where to find it! He uses the latest methods, electronics and equipment to ensure you are fishing productively!
Tahquamenon Falls
Location: 41382 W M-123 - Paradise, MI 49768
Phone: (906) 492-3415
Open: Year-Round
Located in Michigan's eastern Upper Peninsula, Tahquamenon Falls State Park offers over 48,000 acres of wilderness to explore, with the mighty Tahquamenon River running through it. Many visitors are drawn to the famous Upper Falls, which at 50 feet tall and 200 feet wide is Michigan's largest waterfall. The Lower Falls, located 4 miles downstream, are equally beautiful with multiple viewing opportunities.
Tip of the Thumb Heritage Water Trail
Location: Lake Huron in Tuscola County, Huron County and Sanilac County, Michigan
The Mission of the Tip of The Thumb Heritage Water Trail is to develop, maintain, and promote a water trail that highlights natural, cultural, and historical attributes to drive tourism, economic development, and recreational opportunities in Huron, Sanilac, and Tuscola Counties.
Houghton Lake Fishing
Location: 44°20′20″N 84°43′30″W
Size: 20,044 Acres
Houghton Lake is a large lake in Roscommon County. The unincorporated community of Prudenville is at the southeastern end of the lake, while the unincorporated communities of Houghton Lake and Houghton Lake Heights are on the southwest and west shores. It is an extremely popular resort and fishing area year round. Houghton Lake is the site of Tip-Up-Town USA, a large ice fishing and winter sports festival with several events on the frozen waters of the lake itself. Michigan's largest inland lake covering 22,000 acres. The lake offers great fishing possibilities. Here you will find good fishing possibilities for walleye, pike, bass and bluegill. There are seven access sites strategically located around the lake.
Kitch-iti-kipi (The Big Spring)
Location: 46°0'17.1792"N 86°23'6.1692"W (Manistique, Michigan)
Approximate Size: 388 Acres
Phone: (906) 341-2355
Palms Book State Park is located at the northern terminus of state highway M-149, a fifteen minute drive north of US-2 at Thompson. It is a rewarding side trip for the vacationer touring the Upper Peninsula, for here can be seen one of Michigan's alluring natural attractions -- Kitch-iti-kipi, The Big Spring. Two hundred feet across, the 40-foot deep Kitch-iti-kipi is Michigan's largest freshwater spring. Over 10,000 gallons a minute gush from fissures in the underlying limestone. The flow continues throughout the year at a constant 45 degree Fahrenheit. By means of a self-operated observation raft, visitors are guided to vantage points overlooking fascinating underwater features and fantasies. Ancient tree trunks, lime-encrusted branches and fat trout appear suspended in nothingness as they slip through crystal waters far below. Clouds of sand kept in constant motion by gushing waters create ever-changing shapes and forms, a challenge to the imagination of young and old alike.
Iargo Springs
Location: Iargo Springs Interpretive Site - GPS 44.44133, -83.67587
Hours: Open Year Round
Contact: Huron Shores Ranger Station (989) 739-0728
Lying off of River Road National Scenic Byway, Iargo Springs provides a panoramic view of the Au Sable River. Used as a drinking water source since pre-settlement times, dams were constructed on the springs by early loggers before the turn of the century. The dams were useful in diverting water to the logging camps nearby. The site was renovated in 1991. Steps were added and boardwalks along the springs, as well as the dams being rebuilt.
Appledore Stargazing Dinner Sail
Location: Wenona Park | 801 North Water Street, Bay City
When: check 'BaySail website' below

A special live program presented onboard the Appledore IV by astronomers from the Delta College Planetarium. View constellations, listen to star legends, learn to navigate by the stars, hear the words of poets, and enjoy the beauty of the night sky under sail. Fully catered three-course dinner included. Departing from Downtown Bay City, Wenonah Park.
Rifle River Recreation Area
Location: 2550 E Rose City Road - Lupton, MI 48635
Phone: (989) 473-2258

BACHELDER SPOOL & FLY
Location: 1040 Gerald Miller Rd - West Branch, MI 48661
Phone: (989) 345-3234
The Rifle River Recreation Area covers over 4,000 acres in Ogemaw County. The park offers 159 campsites, has several hiking trails and several lakes in its boundaries. Also in the watershed are two state forest campgrounds. The Rifle River campground provides 40 campsites and is located on both sides of the Rifle River. Hardwood Lake State Forest Campground has 22 campsites available. Public canoe access to the Rifle River is fairly good. Access sites are located in the Rifle River Recreation Area, the state forest campground, near Skidway Lake, Moffatt Bridge, and at Omer. In addition, there is a partially developed access site near the confluence of Klacking Creek with the Rifle.
Keweenaw Peninsula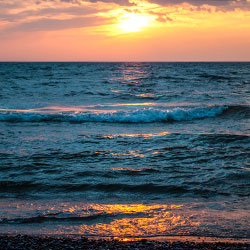 Location: Northwestern tip of Michigan's Upper Peninsula
Phone: Keweenaw Peninsula CVB (888) 766-0325
The Keweenaw is Michigan's Copper Country! Here is where the largest fresh waters on earth create a peninsula called the Keweenaw. Where adventure falls from the sky, grows from the ground and springs from Lake Superior. Experience a quiet, breathtaking view or feel the adrenaline rush on a wicked trail. You can sink your feet into the sand of a different beach each and every day.
Adventure through boreal forests and long beaches of sands and magnificent rocks. Experience stunning sunrises and sunsets that will fill your eyes. See historic architecture, friendly villages and majestic panoramas. The wild is here, yet mixed with a culture of people who thrive in it. Along the shores of Lake Superior you'll discover breathtaking hiking and biking trails that rival any found around the world. On the Keweenaw Peninsula, the discoveries are endless. The treasures you'll take home are Pure Michigan.
Tawas Point Lighthouse
Location: 686 Tawas Beach Road - East Tawas, MI 48730
Phone: (989) 362-5658
Admission: A Michigan State Parks Recreation Passport is required for entry to the park. Admission to the lighthouse is $2 per person; tickets available at the Museum Store. Proceeds help fund the restoration of and exhibits for the lighthouse and lighthouse keeper's quarters.
Tawas Point has been referred to as the "Cape Cod of the Midwest." The campground is located on Tawas Bay where the water is shallow and warm for swimming. The park's expansive day-use beach offers acres of glistening white sugar sand, sprinkled with patches of dune grass and backed by low dunes on the Lake Huron side. The jewel of the park is Tawas Point Lighthouse, built in 1876. It is the only working model of Victorian-era light stations still in operation on the Great Lakes; and to walk through this historic structure and ascend its winding iron staircase is truly to step back in time.
Treetop Zipline
Scenic Caves Nature Adventures
Location: 260 Scenic Caves Road, Blue Mountains, ON, Canada
Open: May - October
Phone: (705) 446-0256
High among 200 year-old oak trees, up to 60 feet above the ground, get ready for an experience like no other. Explore the beauty and wildlife of the picturesque forest valley at the top of Blue Mountain, as you become one with the birds. Now relax, take in the amazing view from the Scenic Caves Lookout Point, enjoy the caverns and crevasses full of moss and rare ferns and then prepare yourself for a truely amazing 1000 foot long Zip Line from the top of the Niagara Escarpment!!!