Travel Planner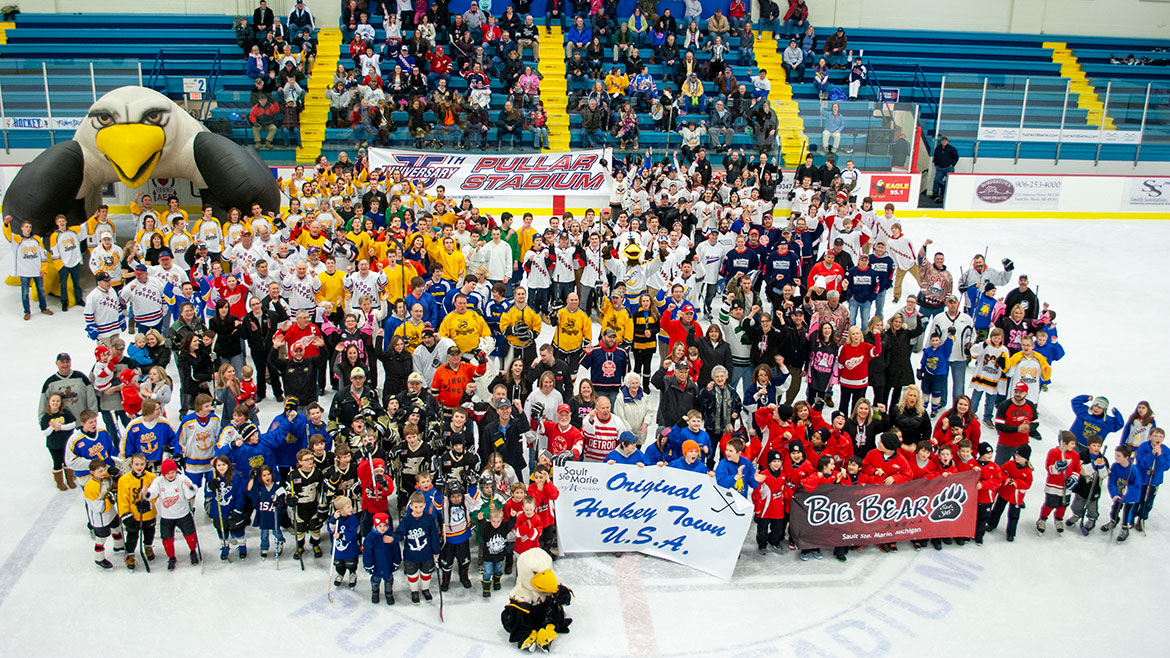 "Winter in the Sault"
Episode #1213 Travel planner
Join us for the most grueling snowmobile race in the country, the I-500. From there it's everything winter from ice hockey to x-country skiing.
International 500 Snowmobile Race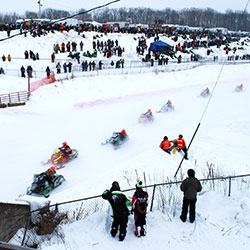 Location: I-500 Track | 984 W 4th Ave, Sault Ste Marie, MI 49783
Cost: Official race buttons available 7 days before the race $20 US | $25 CA
The I-500 Snowmobile Race is Michigan's most thrilling experience for riders and motorsport fans of all kinds. Since 1969, tens of thousands of diehard enthusiasts have come to enjoy the frozen, snowy spectacle of the I-500, and be a part of the Upper Peninsula's most astonishing snowmobile action!
Here, you'll feel your heart thump in your chest at the sights and sounds of professional drivers giving it their all. You'll feel sweet chills and thrills of the track, as the industry's fastest, sleekest snow machines tear around North America's only 1-mile oval ice track – taking banked turns that would make NASA queasy. The I-500 Snowmobile Race guarantees to rock every sense you have: the roar of the engine, the bite of the cold, the glory of the race, the sweet smell of victory. Fans get into it. The emotion is contagious. It just can't be stopped!
Kewadin Casino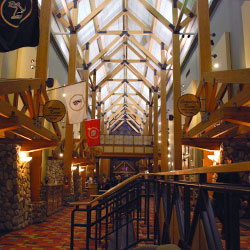 Location: 2186 Shunk Road, Sault Ste Marie, MI 49783
Phone: (800) KEWADIN
Whenever you're in Michigan's UP you're never far from a Kewadin Casino experience. Whether you are staying on the premises or dropping in for entertainment, you will be captivated by the bright lights, and the cha-chings coming from winning at the slot machines. If you prefer, there also are table games, bingo and keno in the casino, as well as great food in the Rapids Lounge and Dream Catcher Restaurant. Visitors come not only for the great gaming but to see some well-known performers in the Dream Makers Theater. From live entertainment to gaming promotions and events, there's always something going on at Kewadin.
Lake Superior State University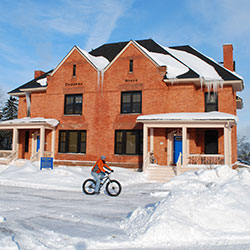 Location: 650 W Easterday Ave, Sault Ste Marie, MI 49783
Phone: (906) 632-6841
Founded: 1946
Lake Superior State University is proudly the smallest public university in Michigan and the campus is located on the St. Marys River. The principal mission at LSSU is to help students develop their full potential. They do this by providing high-quality, academically rigorous programs in an engaged, personal and supportive environment. This combination nurtures potential and sets students on paths to rewarding careers and productive, satisfying lives. LSSU also serves the regional, national and global communities by contributing to the growth, dissemination and application of knowledge.
Lake Superior State University's Robotics and Automation Laboratory was recognized by TAC of ABET as one of the most complete and advanced of its kind in the country. It is one of the best educational facilities in North America with modern equipment including vision systems, sensors and rotary index tables, using a variety of software and programmable logic controllers (PLCs).
As it stands today, the Norris Center is the product of the combined efforts of the faculty, students, Sault Ste Marie citizens, the State of Michigan and federal government. The Norris Center is home for all Lake Superior State University's athletic teams, the Criminal Justice Department, whose facilities include classrooms, fire science and criminalistics laboratories, and a firing range. The complex includes the Cooper Gymnsasium, the Taffy Abel Arena, the Student Activities Center, swimming and diving pools, racquetball courts, dance studio, locker rooms, firearm range, and athletic offices.
The Original Hockey Town, USA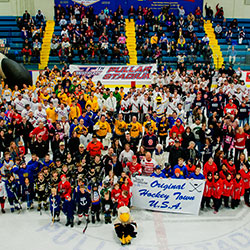 TAFFY ABEL ICE ARENA
Capacity: 3800+
Location: 650 Meridian St, Sault Ste Marie, MI 489783
Phone: (906) 635-2381

CHI MUKWA (BIG BEAR) RECREATION CENTER
Location: 2 Ice Circle, Sault Ste Marie, MI 49783
Phone: (800) 588-RINK

PULLAR COMMUNITY BUILDING
Location: 435 E Portage Ave, Sault Ste Marie, MI 49783
Phone: (906) 632-6853
Rarely does a winter weekend go by without at least one of the Soo area's premier hockey teams playing on home ice. If you're a fan of this hardhitting, lightning-fast winter spectacle, you're in the right town—the original Hockey Town USA!
Built in 1939, the historic ice arena at the Pillar Community Building is a favorite of hockey players and figure skaters alike. Visit the Pullar for open skate, skating classes, youth and adult hockey and more. Two sheets of ice at the Chi Mukwa Big Bear Arena are home to hockey tournaments, skating classes, and public skating.
Sault Seal Recreation Area
Location: 2601 Minneapolis St, Sault Ste Marie, MI 49783
Chalet Phone: (906) 635-6961
Sault Seal Recreation Area has seven tubing runs with two lifts and a ski/snowboard hill are covered with snow and ready for fun. Warm up in the heated chalet and enjoy a snack with a view of the hill.
Cross Country Skiing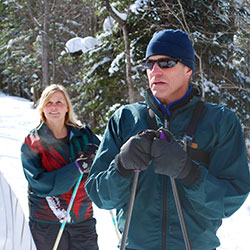 ALGONQUIN CROSS COUNTRY SKI TRAIL
Location: West 16th Avenue, Sault Ste Marie, MI 49783 (Directly West of Tanglewood Marsh Golf Course)
Phone: Chamber of Commerce (906) 632-3301
Recreation Passports ($11) required on the car to park at the trail. This helps the DNR maintain the ski trail. (From Secr. of State or from DNR at the trail head) (increases to $12 after March 1, 2020)
Eight miles of cross-country trails weave through the woods, leaving civilization behind. Skiers can opt for the loop of their choice, with the first lit for nighttime excitement. Groomed trails are only minutes from downtown Soo.
Snowmobile Trails
Location: Trails throughout the Eastern Upper Peninsula | Sault Ste Marie Snowmobile Association - 1205 9th Street West, Sault Ste Marie, MI 49783
If you are looking for a wintry escape, the Eastern Upper Peninsula is the place to go. Take your pick from twelve well-groomed trails that wind across the area groomed by Sault Ste Marie Snowmobile Association. They provide over 1,000 miles of riding pleasure. Enjoy nature at its greatest wonder. Trails blanket the whitest of snow, sheltered by bridges of tree branches and sights that are just unbelievable as you travel along the trails. Sault Ste. Marie has recently opened up the streets for snowmobilers. where automobiles now share city streets with winter's most exciting mode of transportation.
Tahquamenon Falls State Park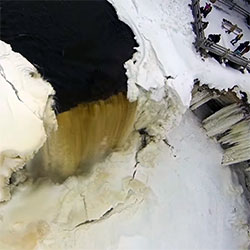 Location: 41382 W M-123 - Paradise, MI 49768
Phone: (906) 492-3415
Open: Year-Round
Located in Michigan's eastern Upper Peninsula, Tahquamenon Falls State Park offers over 48,000 acres of wilderness to explore, with the mighty Tahquamenon River running through it. Many visitors are drawn to the famous Upper Falls, which at 50 feet tall and 200 feet wide is Michigan's largest waterfall. The Lower Falls, located 4 miles downstream, are equally beautiful with multiple viewing opportunities.
Sault Ste Marie Nightlife
THE PALACE RESTAURANT AND SALOON
200 West Portage Ave, Sault Ste Marie, MI 49783
(906) 632-7721

MOLONEY'S ALLEY
227 West Portage Ave, Sault Ste Marie, MI 49783
(906) 635-1171

SOO BREWING COMPANY
223 West Portage Ave, Sault Ste Marie, MI 49783
(906) 632-4400

THE ANTLERS FAMILY DINING
804 East Portage Avenue, Sault Ste. Marie, MI 49783
(906) 253-1728
When the sun begins to set during your Sault Ste. Marie vacation, it's time to get your party on! Whatever your definition of nightlife is the Soo is waiting to put a cap on your day. Speaking of cap, if you're looking for a nightcap, be sure to explore the BARmuda Triangle – a configuration of 12 pubs and taverns in a three-block radius.
Margaritas of all shapes, sizes, colors, and content are the specialty at The Palace Saloon, but the bartenders can serve up anything else your heart desires. The restaurant specializes in Mexican cuisine but also has plenty of All-American options.
Moloney's Alley Irish Pub has the largest draft beer selection in town, featuring 14 options from around the world. Those with an appetite can order off the full menu or just enjoy the free popcorn. A pool table, juke box, and big screen TVs are on site.
Serving the freshest beer in town, Soo Brewing Company, Sault Ste. Marie's only microbrewery always has a new batch underway and 10 taps featuring a variety of their very own microbrews. Visit on "pint and a slice" night for pizza and beer or bring food in from any area restaurant. Games, fellowship and good beer – what more could you ask for?
The Antlers, in Sault Ste. Marie, has a storied history that worth checking out, including legends of ghosts. Part of the legend of the restaurant includes all the various antlers, animals ranging from deer, antelope, bears, big cats and even fish. They also have a set of boat whistles, horns, and bells that get played frequently to the delight of our customers. Kids love it, with antlers to wear and everything to see, including a huge mounted polar bear.