Travel Planner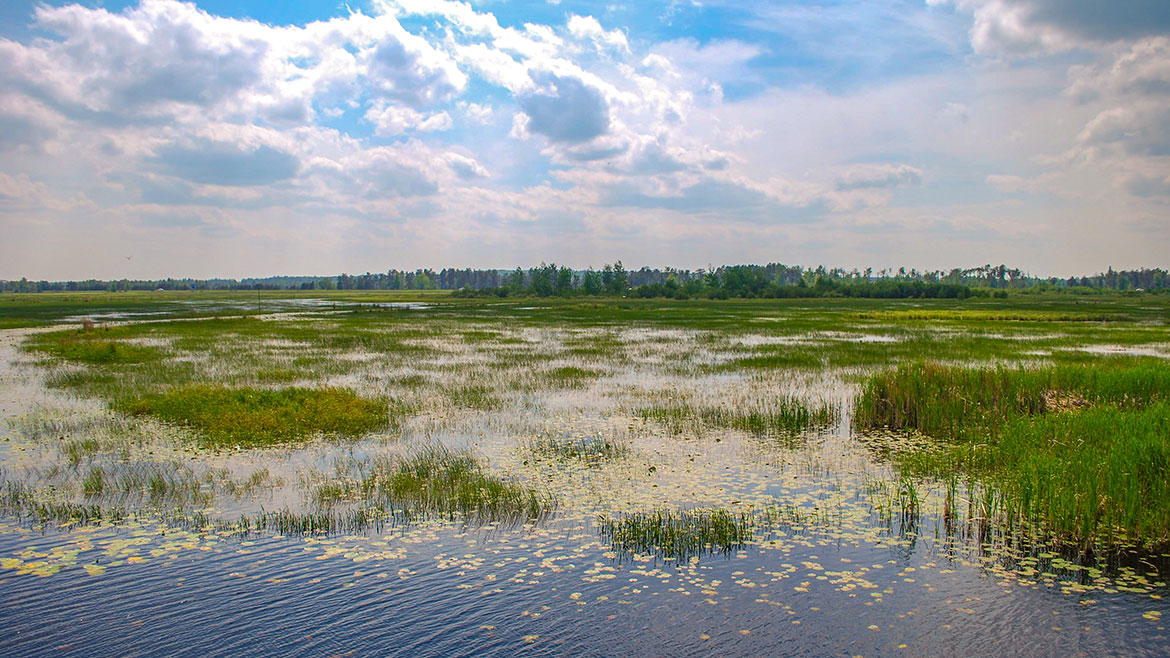 "More Lakes, More Fish, More Fun"
Episode #1211 Travel planner
Today's show is a Fishing Getaway to Michigan's Other Great Lakes. Located in Roscommon County is the Largest Inland Lake in Michigan with some of the best fishing you will ever find in the Great Lakes state. After our day of fishing we spend a solemn moment at the Firemen's Memorial.
Houghton Lake Area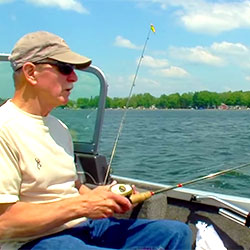 Location: Roscommon County is in the heart of Northern Michigan, 105 miles north of Saginaw along I-75.
Roscommon County is your family vacation destination. Here you will find four seasons of fun, fishing, fireworks and festivals. Michigan's Other Great Lakes – Houghton Lake, Higgins Lake and Lake St. Helen will delight you with their natural beauty, wildlife viewing, and spectacular sunrises and sunsets. All three lakes are a sportsman's fishing and boating paradise. Located in the heart of Michigan you are just a short drive from a great get away. Fresh air and fresh water – purely Michigan – purely refreshing. Come for the experience that will last a lifetime. You will love all there is to see and do in the heart of Northern Michigan.
Houghton Lake Flats
Location: On M-55, O.7 miles east of US-127 turn north on Old US-27 and drive about 1.9 miles, look for the observation platform and fishing platform, and park on the small paved parking lot on the left (west) side of Old US- 27.
Phone: (989) 275-5151 Michigan DNR, Wildlife Division - Roscommon
Size: 390 Acres
This viewing site is a moderately sized wetland on the west edge of Houghton Lake. Water levels are managed with pumps and control structures to enhance fish and wetland wildlife habitat. Large birds and other wildlife can be viewed easily from both highways. A parking area, an elevated wildlife observation platform, and a fishing deck have been constructed along Old-27. This managed wetland area is lush with wetland vegetation and wildlife. A quick stop here almost anytime during the spring, summer, and fall will be rewarded with sightings of osprey, ducks, geese, herons, shorebirds, and marshland songbirds. Great blue herons are common here. Black terns, bald eagle nests, muskrats, raccoons, mink, and river otters all live or nest in the flats and can be seen occasionally. Use binoculars from your car, from the observation decks, or perhaps even take a stroll on the mowed cross dikes on the north and south ends of the flooding to enjoy one of the best and quickest wildlife viewing stops in mid-Michigan.
Houghton Lake State Forest Campground
Location: County Road 300 (E Houghton Lake Dr) LAT 44.400536144599997, LONG -84.774788104199999
Phone: (989) 821-6125
Hours: Campground open mid-April to mid-September
Houghton Lake State Forest Campground is located on the north shore of Houghton Lake with excellent boating and fishing. This is a semi-modern, 50 site campground for tent or small trailer use, some of which will accommodate a 40-ft vehicle/trailer. Services include a modern restroom building (no showers) and potable water from hand pump wells.
Pumpkin Run Car Show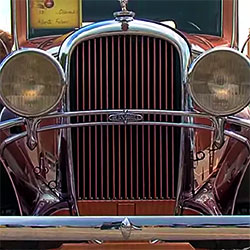 Location: Walmart Parking Lot (2129 W Houghton Lake Dr - Houghton Lake, MI)
When: Annually in August
Once again this year, the Rotary Club of Houghton Lake will be hosting the annual Pumpkin Run Car Show. All proceeds from the Car Show will go directly back to the community through Rotary grants and scholarships. The Trophy Categories will be: Top Forty Choice Awards, Best Paint, Best Vintage, Best Interior, Best Engine, Best Modified, Best Original, Best Import, Best Vintage Truck (1900-1960), Best Truck (1961-Present), Queen's Choice, Sheriff's Choice, DJ's Choice, Longest Distance Driven, Best Youth Pedal Car, Best Adult Pedal Car, Best of Cruise, BEST OF SHOW.
Lake St. Helen
Size: 2,400 Acres
Boating Access Site: Lat: 44.357654, Long: -84.492313 A hard-surface ramp with sufficient water depth and lake or impoundment size to accommodate all trailerable watercraft (minimum of 2.5 - 3 feet deep at a distance of 20 feet from shore). The site is signed.
Located just off Interstate 75, Lake St. Helen covers 2,390 acres. Anglers will find fishing is fantastic. Fish in the 8 to 9-inch range are common. Crappie population is growing. Largemouth, northern pike and walleye are also present. Here you will find good fishing for bass, bluegill, walleye, and rock bass. This manmade lake is extremely popular with anglers and boaters alike. A Bluegill Festival is held each summer.
Stream Side Restaurant & Pub
Location: 1136 E Higgins Lake Drive - Roscommon, MI
Stream Side is located on the Cut River near Higgins Lake. Stream Side specializes in fresh food cooked from scratch, using local food sources when available, including organic vegetables from The Greenhouse at Higgins Lake and bread and rolls from AuSable Bakery in Roscommon. Stream Side is open for breakfast, lunch and dinner, and the bar specializes in Michigan wines and microbrews.
Higgins Lake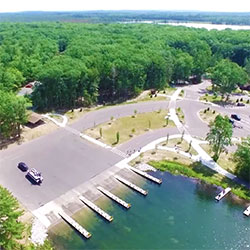 Lake Size: 9,900 Acres

SOUTH HIGGINS LAKE STATE PARKLocation: 106 State Park Drive - Roscommon, MI
Phone: (989) 821-6374
Park Size: 1000 Acres
Higgins Lake is a large recreational and fishing lake in Roscommon County known for its deep, clear waters. It is the 10th largest lake in Michigan with a shoreline of 21 miles. The average depth is 44 feet and the lake contains almost 20 billion cubic feet of water. It drains into Marl Lake by the Cut River which runs into Houghton Lake and eventually to Lake Michigan. Sportfish in the lake include yellow perch, trout, smelt and pike. Fish are taken both in open water and by ice fishing. There are two state parks, located on opposite ends of the lake: South Higgins Lake State Park, which has a mile of shoreline, and North Higgins Lake State Park. Both provide public boat launches and camping, and are very popular in the summer months. The south park is older, larger, and more developed. The north park is located on what was once the world's largest seedling nursery, a part of the CCC of the 1930s.
Michigan State Firemen's Memorial & Festival
Location: County Road 103 (E Robinson Lake Road), just off Exit 239 of I-75 - near Roscommon | Roscommon County Fire Training Grounds (formerly Roscommon Fair Grounds)
Phone: (989) 275-5880
Firemen's Memorial is a monument dedicated to all fire fighters that have died in the line of duty. This memorial is one of the few in the nation to honor these fallen heroes. Each year usually during the 3rd week of September, a festival is held in remembrance these brave citizens at the Roscommon County Fire Training Grounds (formerly Roscommon Fair Grounds.) During this festival there is a parade, antique equipment demonstration, a memorial service, a light parade, music, dancing, emergency crew competitions and many more planned activities. The Firemen's Memorial Festival Committee, Inc. can be reached at (989) 275-5880.
Houghton Lake
Location: 44°20′20″N 84°43′30″W
Size: 20,044 Acres
Houghton Lake is a large lake in Roscommon County. The unincorporated community of Prudenville is at the southeastern end of the lake, while the unincorporated communities of Houghton Lake and Houghton Lake Heights are on the southwest and west shores. It is an extremely popular resort and fishing area year round. Houghton Lake is the site of Tip-Up-Town USA, a large ice fishing and winter sports festival with several events on the frozen waters of the lake itself. Michigan's largest inland lake covering 22,000 acres. The lake offers great fishing possibilities. Here you will find good fishing possibilities for walleye, pike, bass and bluegill. There are seven access sites strategically located around the lake.