Travel Planner
"The Great Lakes Bay Waterway"
Episode #1102 Travel planner
Our tour starts in the middle of the state in Sanford, Michigan on Sanford Lake to do a little fishing with champion fisherman Brian Darling. From here we take a tour of the Shiawassee Nature preserve and then it's on to the Tittabawassee River to kayak and we continue all the way to Saginaw Bay to join in a sailboat race and fish with nationally acclaimed fisherman Mark Martin. This is a water trail for the whole family.
Great Lakes Bay Region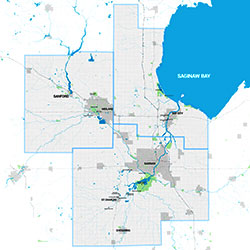 Location: Saginaw, Bay and Midland Counties, Michigan
Located in Michigan's Mitten at the base of the thumb, the region encompasses the Saginaw Watershed, with many of its rivers, reservoirs and lakes converging into Lake Huron at Saginaw Bay. From standing knee deep in a stream for fly fishing or paddling the rivers to launching your watercraft for a day of boating and fishing, it is home to such unique opportunities as cruising on the sparkling waters of Lake Huron on a tall ship or learning to pilot a sail boat on your own.
Fishing at Sanford Lake
Boating Access Site: Sanford Lake Park - 415 Irish Road, Sanford, MI (43.680049, -84.382811)
Sanford Lake is a popular recreation spot in Midland County. There are usually glowing fishing reports from the local anglers and tournament fisherman. What could be better than a day fishing on sparkling Sanford Lake. Access to Sanford Lake is from the public launch at Sanford Lake Park. Many anglers use the fish finder to find the really nice beds and quality areas to fish. The lake is popular because of the large size of the largemouth and smallmouth bass inhabiting the lake.
Kayaking - Chippewa River
CHIPPEWA NATURE CENTER
Location: 400 South Badour Road - Midland, MI 48640
Phone: (989) 631-0830
Visitor Center Hours: Mon - Fri 8am-5pm | Sat 9am-5pm | Sun 1-5pm

IKE'S MOBILE KAYAK RENTALS
Location: 111 W Main Street, Midland, MI 48640
Phone: (989) 750-5251
What a wonderful day to spend kayaking the Chippewa River from the Chippewa Nature Center down to the Tridge in downtown Midland. You can go day tripping down the river in your own kayak or rent one from the area outfitter, Ike's Mobile Kayak Rentals. They will drop you at the selected launch site of your choice and pick you up when you're finished paddling. Midland and the surrounding area have easy launch sites, beautiful rivers and lakes full of nature to make your kayaking experience relaxing and enjoyable. Kayaking is a great form of exercise. Fun for families, groups or paddle by yourself.
Freeland Walleye Festival
Location: Freeland, MI
When: Annually during Walleye Season (2020 Festival: Cancelled)
The annual Freeland Walleye Festival is centered on fishing, but there is something for everyone. Sponsored by the Freeland Lions Club, it is held around the opening of walleye season on inland lakes after the fish are done spawning. The festival includes a Car Show, Bingo, Kids Fishing Pond, Texas Hold 'em, Fish Fry, Rummage Sales, Pancake Breakfast and more.
Johnny Panther Quests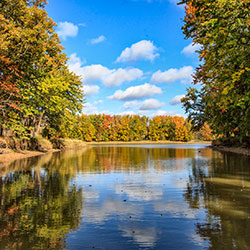 Location: Shiawassee National Wildlife Refuge
Johnny Panther Quest Adventure Trips - Phone: (810) 625-4057
Scenic boat tours through the Shiawassee National Wildlife Refuge specializing in ecotours, birding, romantic escapes, and Bed & Breakfast packages. Boat tours are by reservation through one of the richest wildlife habitats in Michigan. Explore Michigan's Everglades. They can accommodate 1-12 persons on their shallow draft, custom built boats through part of the Shiawassee National Wildlife Refuge and State Game Area when conditions permit. They offer soft adventures through one of the richest wildlife habitats in Michigan. From the migrations of waterfowl and raptors of early spring, lush foliage of summer, to the crimson colors and migrations of fall, you will have opportunities to spot Bald Eagles, beaver, deer, ducks, herons and shore birds. Trips are personally guided and narrated. Length of tours average 3-5 hours and are by reservation. Trips can be specifically tuned to individual groups.
Bavarian Belle Riverboat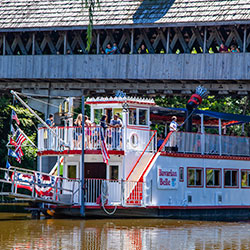 Location: 925 South Main Street - Frankenmuth, MI 48734
Phone: (989) 233-0779 | Toll Free: (866) 808-2628 | Fax: (989) 652-9360
Hours: Early May - Mid October, Tours Depart Every 1½ Hours from 11am
Board the Bavarian Belle at Frankenmuth River Place for a narrated sightseeing cruise along the Cass River. The one-hour tour operates from May to mid-October. Snacks and soft drinks are available. Barrier-free, catering available, and the boat makes a great location for your wedding or special event!
Tall Ships Celebration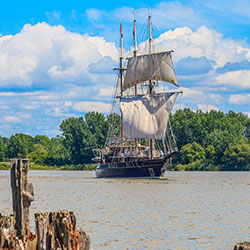 Location: N Water Street & 6th Street - Bay City, MI
When: Last Time in Bay City was July, 2019
Bay City is proud to host the largest gathering of tall ships in the state of Michigan. Majestic tall ships will line both sides of the Saginaw River the way they did more than a hundred years ago. Guaranteed to take your breath away, you'll be inspired by the sights and sounds of Bay City's award-winning Maritime Festival. Activities Include: Grand Arrival of Tall Ships, Interactive Deck Tours, International Maritime Music, Hands-On Children's Crafts, Sail Training Rally, Tall Ship Excursions, Reenactors & Live Performances, Fine Art Show and Free Shuttle Service.
Bay City River Roar
Location: Veteran's Memorial Park - Bay City, MI
When: Annually in June (may return, may have changed name)
Professional Powerboat Racing along the Saginaw River in downtown Bay City. Don't forget to visit the Kid Zone! Lots of fun and entertainment for kids of all ages, plus carnival rides and attractions in Veterans Park. Friday - Watch the SST-45, Formula 1 and Formula 2 testing. Saturday - Registration and Safety Inspection, SST-45 Time Trials, Formula 2 Testing, Super Lights Testing and Formula 1 Testing. Sunday - Races all day! Two concerts will take place during the weekend, watch for the acts to be announced!
Appledore Stargazer Dinner Sail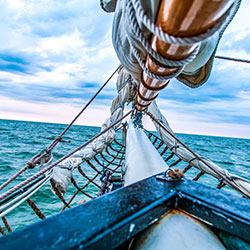 Location: Wenona Park - 801 North Water Street, Bay City
When: check 'Appledore Public Sailing Schedule' below
A special live program presented onboard the Appledore IV by astronomers from the Delta College Planetarium. View constellations, listen to star legends, learn to navigate by the stars, hear the words of poets, and enjoy the beauty of the night sky under sail. Fully catered three-course dinner included. Departing from Downtown Bay City, Wenonah Park.
Fishing On The Bay with Mark Martin
Location: Saginaw Bay
Walleye are abundant here in Saginaw Bay and they are so much fun to fish for. Not only do they put up a moderate fight consisting of heavy pulls and headshakes, when you return to shore with your limit, they are so delicious when served piping hot, fresh out of the pan. The freshwater Saginaw Bay spans 1,143 acres and is fed by many streams and rivers, It has been blessed with a great number of naturally reproduced walleyes and when they are added to the older, adult walleye population from past years, it means fishing is always exciting, Sometimes, though, anglers have to wait for them to get in the mood to bite. If they are undersized, they are simply returned to the water to feed and grow for another day.
Sailing School
SAGINAW BAY COMMUNITY SAILING ASSOCIATION
Location: (989) 922-SAIL [922-7245]
Sailing classes are held on the Saginaw River in downtown Bay City. On-the-water facilities are located at the foot of 5th Street at the north end of Wenonah Park, near the schooners Appledore IV and Appledore V.
The Saginaw Bay Community Sailing Association offers an annual Try Sailing Day with free sailboat rides to anyone that wants to experience the joys of sailing. One of its most popular programs is its summer sailing lessons.
Sailboat Racing
BAY CITY YACHT CLUB
Location: 3315 Shady Shores Road - Bay City, MI 48708
Phone: (989) 686-1130
The Bay City Yacht Club is the center of inner Saginaw Bay sailboat racing. They are home to Lightning Fleet 216, have an active Wednesday Night fun-racing program as well as a more competitive weekend series. The Yacht Club frequently hosts regional regattas and welcome inquiries to utilize BCYC facilities to host sailboat racing events.
Vote | Boating Country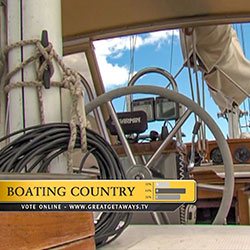 Vote for your favorite.
Which "Boating Country" option would you choose for your own Great Getaway?